PHOTO: Udall, Heinrich, Lujan Grisham Join Federal and Local Officials to Announce $8 Million to Improve Access to Valle de Oro National Wildlife Refuge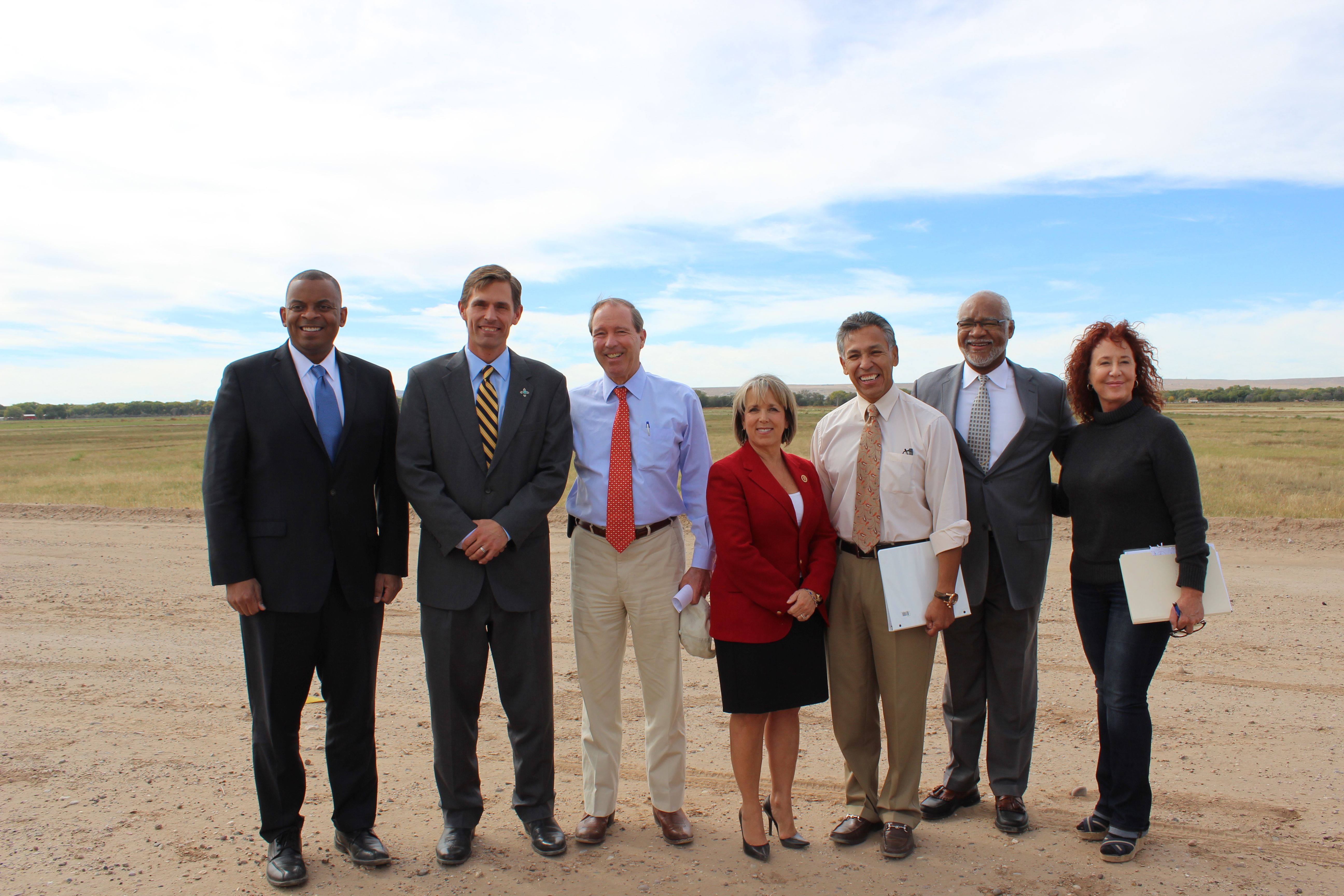 (PHOTO: U.S. Department of Transportation Secretary Anthony Foxx, U.S. Senator Martin Heinrich (D-N.M.), U.S. Senator Tom Udall (D-N.M.), U.S. Representative Michelle Lujan Grisham (N.M.-01), Bernalillo County Commissioner Art De La Cruz, U.S. Fish and Wildlife Service Southwest Regional Director Dr. Benjamin Tuggle, and Mountain View Neighborhood Association President Angela West)
ALBUQUERQUE, N.M. – At the Valle de Oro National Wildlife Refuge this afternoon, U.S. Senators Tom Udall and Martin Heinrich and U.S. Representative Michelle Lujan Grisham joined U.S. Transportation Secretary Anthony Foxx and Bernalillo County Commissioner Art De La Cruz to announce that Bernalillo County has been awarded $8 million in federal funding to improve access to the Valle de Oro National Wildlife Refuge in Albuquerque's South Valley.
The funding, awarded through the U.S. Department of Transportation's Federal Land Access Program (FLAP), will be used to provide roadway improvements along 2nd Street SW and to build a new pedestrian and bike path to the refuge. Expanded access to the refuge is expected to attract many more local residents and tourists, boosting the local economy and promoting economic development throughout the surrounding neighborhoods.
"The Valle de Oro National Wildlife Refuge provides an urban oasis for locals and visitors to New Mexico, and this funding will facilitate safer travel options that will attract more visitors to the refuge, helping to support tourism, create jobs and boost the local economy," Udall said. "On the Senate Appropriations Committee, I'm leading the fight for projects like the Valle de Oro National Wildlife Refuge, and I will continue to push for funding for infrastructure improvements to ensure safe and reliable access to our national parks and federal lands."
"This federal investment will help improve access to the Valle de Oro National Wildlife Refuge and allow for even more economic development and tourism opportunities in the region," Heinrich said. "Second Street has long been in need of funding for infrastructure improvements. Today's announcement would not have been possible without the overwhelming support and collaboration from the community to establish the Valle de Oro and is an indication of the return on investment that the refuge will continue to provide."
"As the Southwest's first urban national wildlife refuge, Valle de Oro is already having a positive impact on the quality of life in our community," said Lujan Grisham. "I am proud to be one of many community partners who have supported this project, and I am grateful for this funding that will help ensure visitors are able to safely access and enjoy this treasured natural space."
The Valle de Oro National Wildlife Refuge was established by the U.S. Fish and Wildlife Service in September 2012, and is the first designated urban national wildlife refuge in the Southwest. The 570-acre refuge was made possible thanks to the federal Land and Water Conservation Fund – which helps purchase land for recreation and conservation at the local, state and federal level – Bernalillo County, and numerous other local, state and federal partners.