SOLAR WORKS FOR LOCAL GOVERNMENTS
The cost of installing solar power is at a record low making it a smart investment for local governments across the nation. Local governments in New Mexico are leading the way while saving taxpayer dollars.
How will we pay for solar?
There are more options than ever before when it comes to financing a solar project. Of course, local governments can issue public bonds, a low-cost and commonly used source of capital.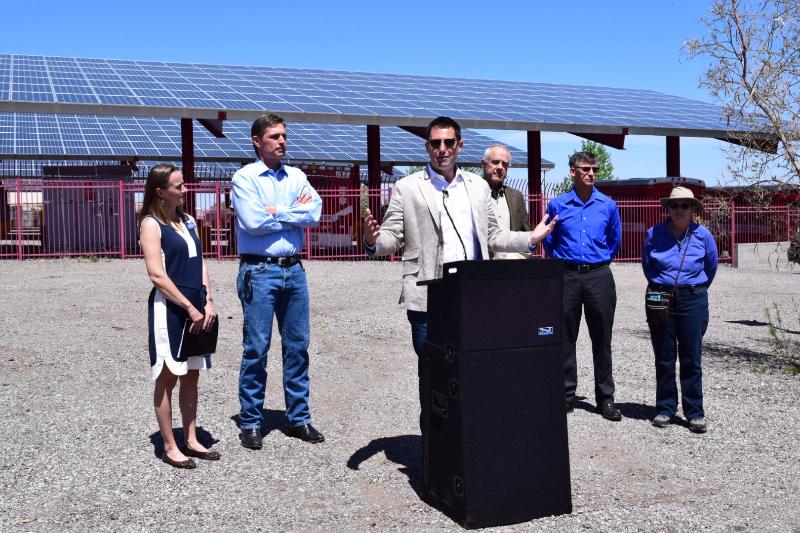 Read The City Of Albuquerque Solar Success Story HERE

The City of Albuquerque used public bonds to finance $25 million of solar projects for city buildings. Several of these projects are slated to include battery storage to lessen demand charges.
Alternatively, some communities arrange for a third-party to own and operate their system. The third party can pass on tax credit savings via a contract – a power purchase agreement (PPA).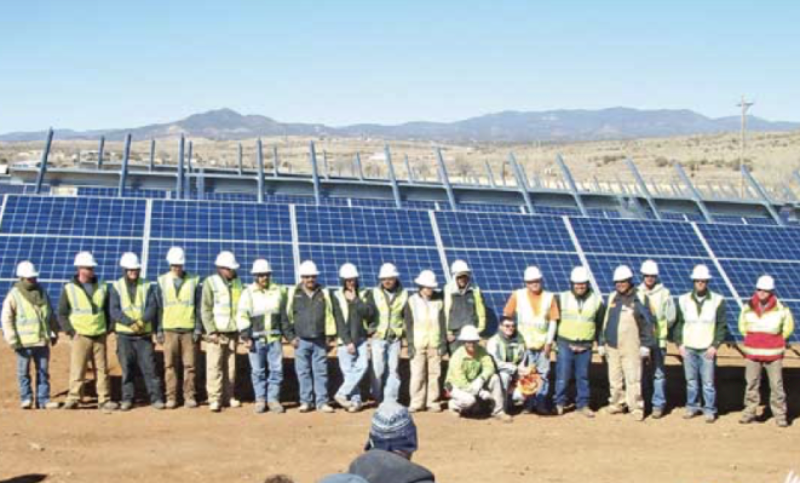 Read The Town Of Silver City Solar Success Story HERE

Without any out-of-pocket expense, Silver City decreased water treatment costs significantly through the installation of a photovoltaic system with a PPA.
Blended financing can provide the benefits of both PPAs and public bonding. Some guidelines and best practices for developing a Request for Proposals for solar is available from the National Renewable Energy Laboratory.
Local nonprofit Gallup Solar collaborated together with the City of Gallup on a new solar installation using a PPA.
Read The City Of Las Cruces Success Story HERE
Additionally, grants and loans are available from several federal sources, including the U.S. Department of Energy, Housing and Urban Development, and USDA Rural Development.
The City of Las Cruces realizes $300,000 in annual savings from solar projects partially funded through grants and loans from the federal government.
Of course, some of the biggest savings come from using less power altogether. Facility upgrades that provide energy efficiency can be paid for through Energy Savings Performance Contracts. More information on these contracts is available from the State of New Mexico.
Some power utilities provide rebates for energy efficiency projects, as well.
The City of Albuquerque has implemented an array of energy conservation projects, resulting in significant rebates from PNM.
Will solar work for my community?
Free technical assistance is available to state and local governments through the National Renewable Energy Laboratory's Solar Technical Assistance Team (STAT). For example, STAT analyzed electricity usage data provided by the Aztec Municipal School District and delivered a load and consumption analysis. STAT also serves as an initial point of contact and can help connect state and local governments to other technical assistance programs and resources.
Additional technical assistance is available at no cost to communities who are pursuing a SolSmart designation, a program funded by the Department of Energy. More information on the program is available from the National Association of Counties. SolSmart also has online resources to help address every step of going solar: from community engagement to permitting, construction and inspection.
Not sure where to start?
Use the State and Local Solution Center to develop your plan, design a program, find energy data and investigate ways to pay for your initiative.
The Rocky Mountain Institute recently published a handbook to help cities choose practical, economic, and impactful actions that include strategies and resources to help adopt solar and reduce carbon emissions.
A comprehensive guide for local governments is available from the U.S. Department of Energy. The Department also funds the Database of State Incentives for Renewable & Efficiency, a list of financial incentives and regulatory policies in the state of New Mexico that support the development of renewable energy and energy efficiency. DOE through Sandia National Laboratories also offers the Solar Glare and Flux Mapping Tools to help installers of solar arrays at airports and air installations comply with Federal Aviation Administration (FAA) and Department of Defense Requirements.