SOLAR WORKS FOR TRIBES
The cost of installing solar power is at a record low. Solar now delivers clean, sustainable energy for less, and tribes across New Mexico are leading the way.
How Will We Pay For Solar?
The Office of Indian Energy has compiled the Energy Development Assistance Tool, a comprehensive list of federal funding and resources specifically for tribes. Ready to start applying? A list of current opportunities is available here.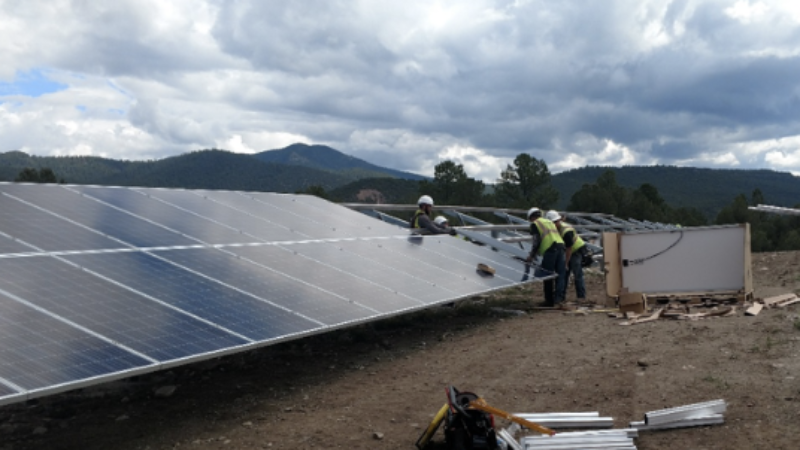 Read The Pueblo Of Picuris Solar Success Story HERE
The Pueblo of Picuris collaborated with the Northern Pueblos Housing Authority to install a megawatt scale system. The project was funded through Department of Energy and Bureau of Indian Affairs resources and a loan.
Read The Mescalero Tribal Fish Hatchery Solar Success Story HERE

The Mescalero Tribal Fish Hatchery installed a solar system for their hatchery tank through funding from the Bureau of Indian Affairs (BIA) Hatchery Maintenance program. Hatchery Maintenance funding is available for hatcheries owned by federally recognized tribes.
Some of the biggest savings come from using less power altogether. Facility upgrades that provide energy efficiency can be paid for through Energy Savings Performance Contracts. More information for tribes is available from the State of New Mexico.
Will Solar Work For My Community?
Tribes can apply for free on-request technical assistance for energy planning, energy efficiency and other types of projects through the Department of Energy (DOE) Office of Indian Energy Policy and Programs.
New Mexico's own Sandia National Laboratories Indian Energy Program helps manage the office's student internship program and also provides technical assistance to U.S. Tribes and Pueblos to implement renewable energy projects.
The National Renewable Energy Laboratory also offers technical assistance to tribes through analytics and planning. Contact information is on their website.