Dear Friend,
Last month, I visited the campus of Atrisco Heritage Academy High School, where they have installed a new photovoltaic solar array, built by a New Mexico solar company, and a battery storage system. This combined solar-storage system will generate cleaner and more reliable electricity that will save Albuquerque Public Schools $3.5 million over the next 25 years.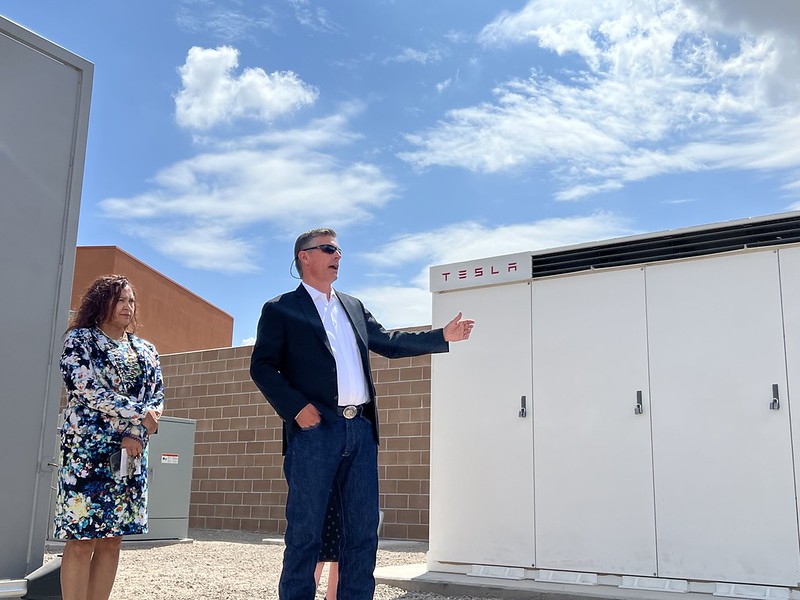 PHOTO: U.S. Senator Martin Heinrich attends the unveiling of a new battery storage system and photovoltaic solar array at Atrisco Heritage Academy High School in Albuquerque, August 18, 2022.
This project is a powerful example of how New Mexico continues to lead the way in the transition to our clean energy future. School campuses like this one have a unique opportunity to build on-site clean energy installations and adopt clean and efficient electric vehicles—from school buses to delivery vehicles. I am pleased that APS has taken some big steps over the last decade to incorporate solar onto its campuses and build efficiency into all of its new and remodeled buildings.
Last year, I worked hard to secure new federal resources to assist school districts with purchasing new electric school buses and building new charging infrastructure as part of the historic Infrastructure Law. Similar to the solar-and-storage project at Atrisco Heritage, electric school buses provide a major return on investment, improve healthy air for our kids, and help us meet our responsibility on climate.
And I am so proud that Congress just took decisive action on climate by passing the Inflation Reduction Act, which will make transformative investments in the production and deployment of clean, affordable, and efficient technologies. It includes provisions that I championed to make clean and electric household appliances more affordable and to incentivize the construction of energy storage projects that will prepare our electric grid to take on much more wind and solar power.
This new law is—by far—the single greatest action we have ever taken in the United States to address the climate crisis. It will make an enormous difference in the type of planet we pass on to our kids.
Sincerely,
MARTIN HEINRICH
United States Senator