Dear Friend,
Today is a proud day for Indian Country as President Biden's newly appointed Director of the Indian Health Service, Ms. Roselyn Tso, is sworn into office. Director Tso is an exceptionally well-qualified nominee to lead the Indian Health Service at this pivotal moment for public health in Indian Country, and I was proud to support her nomination in the Senate.
An enrolled Tribal member of the Navajo Nation and a respected leader with decades of public service experience working in all levels of the Indian Health Service, Ms. Tso began her IHS career 38 years ago in the Yakama Service Unit in Washington State. She served in numerous leadership roles—in the Pacific Northwest and at the Indian Health Service headquarters in Rockville, Maryland. For these past three years, Ms. Tso has served as the Director of the Navajo Area Indian Health Service.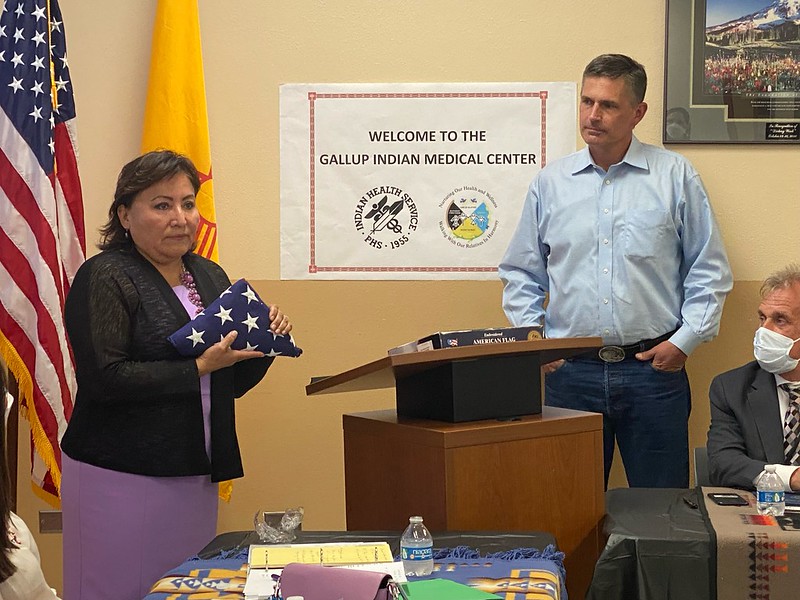 PHOTO: U.S. Senator Martin Heinrich presents Roselyn Tso (left) with a flag flown over the U.S. Capitol in honor of the heroic health care workers at the Gallup Indian Medical Center, June 28, 2022.
Ms. Tso demonstrated tremendous leadership in the face of some of the most harrowing days and months on the front lines of the COVID-19 pandemic. Especially the earliest months of the pandemic, communities on the Navajo Nation experienced some of the highest rates of infection from the virus. Hospitals like the Gallup Indian Medical Center and the Shiprock-Northern Navajo Medical Center transformed into Ground Zero for the pandemic. Health care facilities that had long struggled with staffing challenges and an aging infrastructure reached a near breaking point.
But in the face of this unprecedented public health emergency, the nurses, physicians and support staff at the Navajo Area Indian Health Service—under Ms. Tso's leadership—went above and beyond to serve their patients and families. And once the highly effective vaccines became available, Ms. Tso played a key role in the wildly successful vaccination campaign that has seen the Navajo Nation achieve some of the highest rates of vaccination in the entire world.
I am confident that Ms. Tso is the right person to lead the Indian Health Service, not only because of her steadfast leadership during the pandemic. She is the right person for this role because she is well acquainted with the long-running challenges in the Indian Health Service that in many cases stem from decades—really, centuries—of federal under-investment. She also has lived experience relying on and navigating the Indian Health Service as a patient.
She will be the strong advocate within the U.S. Department of Health and Human Services to demand the resources, infrastructure, and staffing levels that the Indian Health Service to deliver on the federal trust responsibility to provide the highest quality health care to American Indians and Alaska Natives.
Sincerely,
MARTIN HEINRICH
United States Senator