Announcing My Virtual Job Fair
Dear Friend,
These last months have been some of the most challenging that many of us will ever face. The immense disruption brought on by the COVID-19 pandemic has left thousands of hardworking New Mexicans looking for new employment. I remain committed to doing everything in my power to help these New Mexicans and rebuild strong economies in every part of our state. That's why I am launching a Virtual Job Fair today that will be hosted on my website.
VIDEO: U.S. Senator Martin Heinrich announced the launch of a Virtual Job Fair hosted on his website, July 8, 2020.
You can find the Job Fair by visiting Heinrich.Senate.Gov/JobFair. The webpage includes a series of virtual presentations and other resources aimed at supporting and assisting New Mexicans seeking employment. These resources will connect New Mexicans with employers looking to hire, as well as provide information on how to find current job openings, and navigating local, state, and federal websites to search for and apply to job opportunities. I'm grateful to the Office of Personnel Management, the New Mexico Department of Workforce Solutions, and the University of New Mexico for partnering with me in this effort.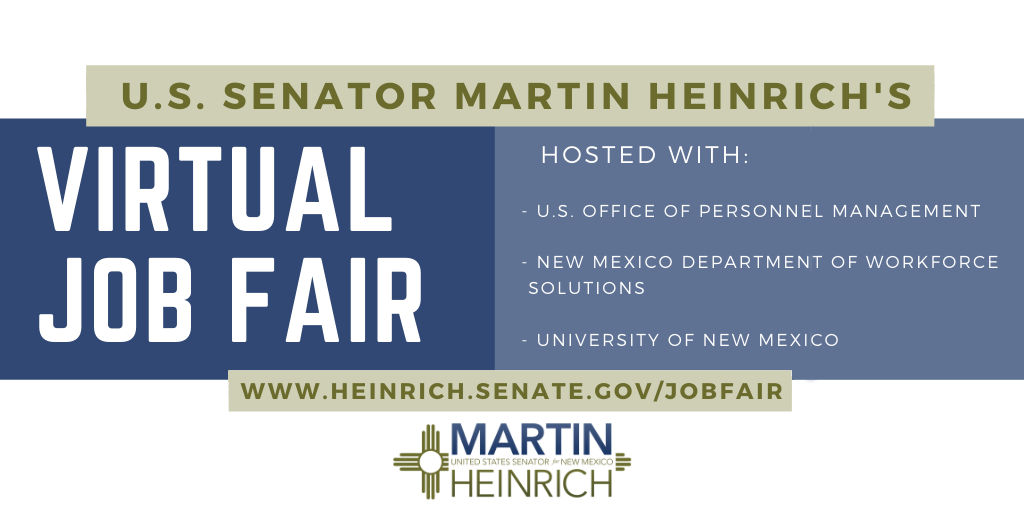 I will continue fighting for New Mexico's priorities and call on leaders from both parties to resume negotiations between the Senate, the House of Representatives, and the White House on legislation to protect our health, support our families, and ensure a successful long-term economic recovery. Please don't hesitate to contact my office if I can be of any assistance to you during this time.

Be well and stay healthy.
Sincerely,
MARTIN HEINRICH

United States Senator