Democracy under threat
Dear Friend,
In a shocking display of submissiveness this week, President Trump stood next to Vladimir Putin and made it clear that his allegiance is not with the American people, and even called the United States foolish. Instead of seizing the opportunity to strongly condemn an attack on our country, the president caved to Russia, putting our national security and American democracy at risk.
High profile cyber-attacks and information warfare campaigns in recent years--including the Russian government's interference in the 2016 presidential election--have exposed a myriad of vulnerabilities in both our government and private sectors. While the White House tries to explain the president's statements, we can't wait to take action to strengthen protections for our election infrastructure.
I hope you can take a moment to watch an interview I did on KOAT with New Mexico Secretary of State Maggie Toulouse Oliver about how we are taking the very real threats posed by Russia seriously.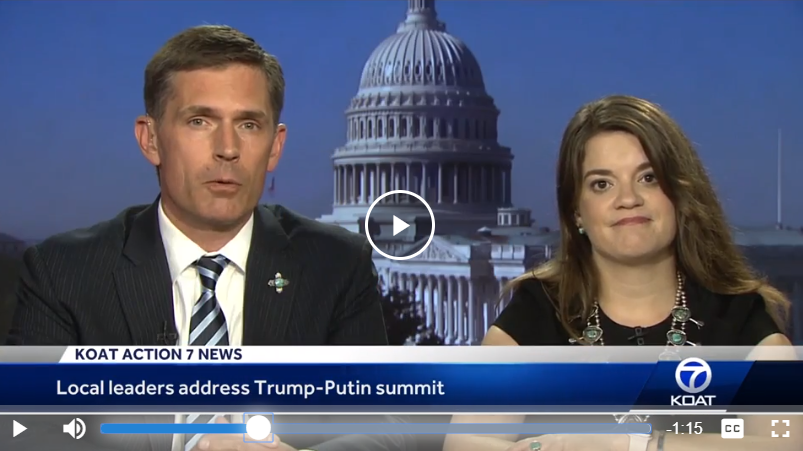 VIDEO: U.S. Senator Martin Heinrich and N.M. Secretary of State Maggie Toulouse Oliver respond to President Trump's summit with Russian President Vladimir Putin, KOAT, July 17, 2018.
I am grateful that Secretary Toulouse Oliver has taken the lead in ensuring New Mexico's election systems are protected from cyber threats and foreign intrusion. I'm also pleased to announce that we've added additional co-sponsors in the Senate to the Secure Elections Act, legislation I introduced with both Republican and Democratic colleagues on the Intelligence Committee in response to our findings about Russia's campaign to interfere with the 2016 presidential election. We need to streamline cybersecurity information-sharing between federal intelligence entities and state election agencies, provide security clearances to state election officials, and provide support for state election cybersecurity infrastructure.
President Turmp's efforts to cast doubt on the Russia investigations and his utter lack of interest in learning how to prevent a future similar attack on our nation's democratic institutions make it all the more difficult to take the steps we need to take. But I remain determined to do all I can to learn the full truth, and to create policies that will prepare us for the threats that lie ahead.
Sincerely,
MARTIN HEINRICH
United States Senator