Dear Friend,
In the past two years, we have delivered billions to New Mexico for infrastructure projects that will improve our communities and create high-quality jobs that will help New Mexicans build their families. Earlier this month, I was proud to welcome Mitch Landrieu—President Biden's Senior Advisor and Infrastructure Implementation Coordinator—to New Mexico to see some of these investments up close, and plan for future ones.  
New Mexico hasn't experienced this scale of federal infrastructure and economic investment since the days when interstate highway system was built. And it is already making an enormous difference for New Mexicans.
Lowering Energy Costs, Helping our Planet
PHOTO: U.S. Senator Martin Heinrich and White House Infrastructure Implementation Coordinator Mitch Landrieu visit a home in Albuquerque making electrification upgrades, July 6, 2023.
Senior Advisor Landrieu and I kicked off his visit by joining an Albuquerque family taking an essential step in electrifying their home. Converting our homes to efficient electric appliances is a win-win, lowering overall energy costs, helping the environment, and improving our health.
That's why I fought for federal funding to support families with the up-front costs of home electrification. The Infrastructure Law and Inflation Reduction Act have delivered $113 million to New Mexico that families will soon be able to access to electrify their homes.
Connecting Communities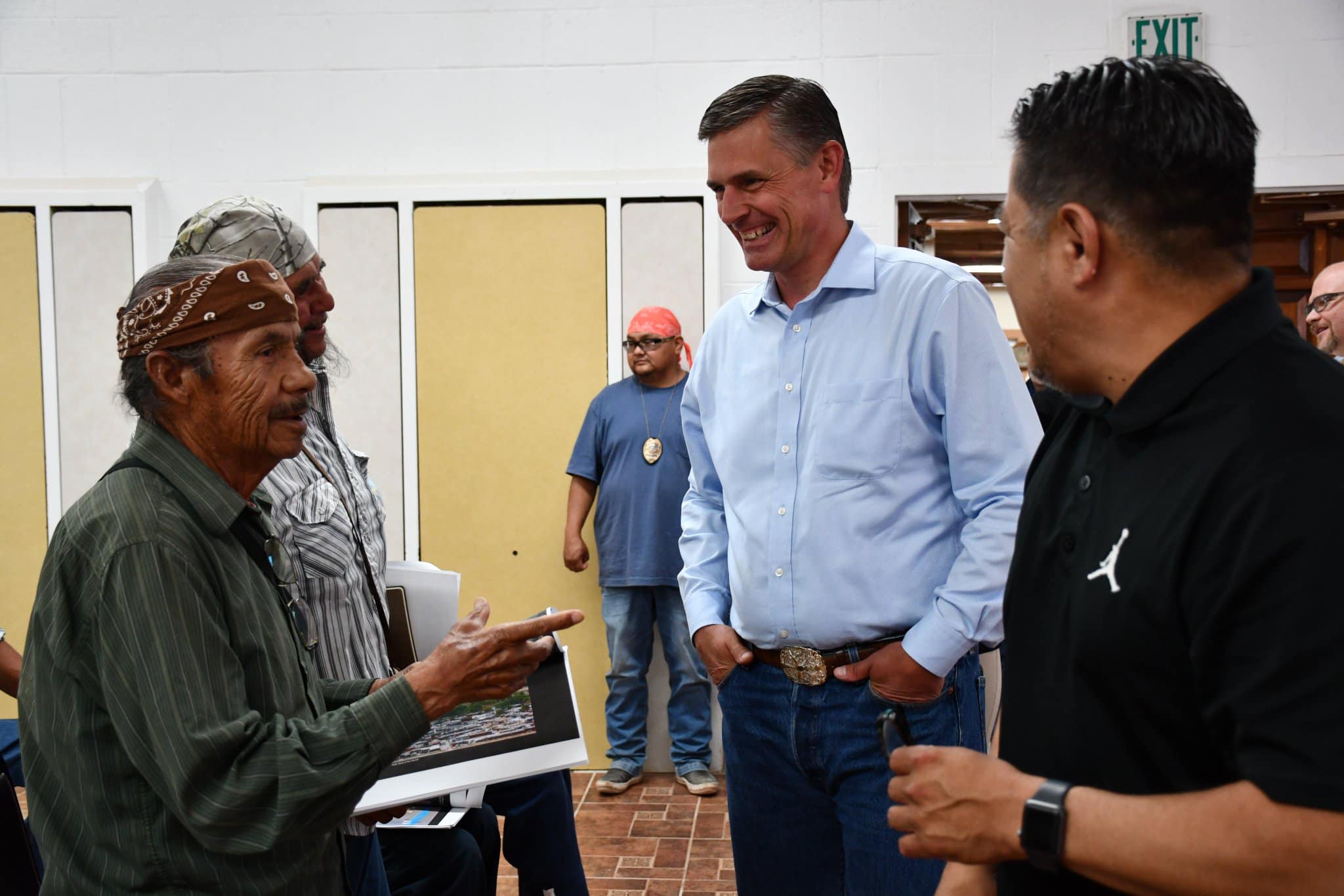 PHOTO: U.S. Senator Martin Heinrich visits Santo Domingo Pueblo to highlight a $12 million investment from the Infrastructure Law to expand access to high-speed internet, July 6, 2023.
High-speed internet isn't just a nice thing to have; it has become a necessity. And everyone needs access to it. Last month, President Biden announced that the Infrastructure Law's Broadband Equity Access and Deployment Program is delivering $675 million to New Mexico to help us connect more of our communities to affordable, high-speed internet. This is by far the single largest investment in broadband internet deployment in our state's history.
During his visit, Senior Advisor Landrieu joined us to highlight multiple, multi-million dollar broadband investments from the Infrastructure Law. This funding will help us deliver affordable, high-speed internet connections to households, community centers, and first responders in Santo Domingo Pueblo and in a number of rural communities along New Mexico Highway 14 — from Santa Fe all the way south to Mountainair.
Improving Public Safety and Transportation, and Building Affordable Housing
PHOTO: U.S. Senator Martin Heinrich joins (from right) White House Infrastructure Implementation Coordinator Mitch Landrieu, U.S. Senator Ben Ray Luján, Albuquerque Mayor Tim Keller, and Albuquerque Transit Director Leslie Keener to announce a $25 million RAISE Grant to renovate and modernize ABQ Ride's Uptown Transit Center, July 6, 2023.
Senior Advisor Landrieu also joined us to announce a $25 million RAISE Grant from the U.S. Department of Transportation that will help the City of Albuquerque improve safety, reduce crime, and reimagine the Uptown Transit Center area. This will include improved sidewalks and more lighting, charging stations to power the City's new electric buses, and a vibrant, mixed-use development around the Transit Center that will provide retail spaces for local businesses and hundreds of new, affordable housing units.
These investments are just a small slice of all that President Biden and New Mexico's Democratic Congressional Delegation are delivering to help us build a stronger economic foundation for our entire state. I am committed to bringing even more strategic investments to our state to build the future New Mexicans deserve.
Sincerely,
MARTIN HEINRICH
United States Senator