New Zuni Mountain Trails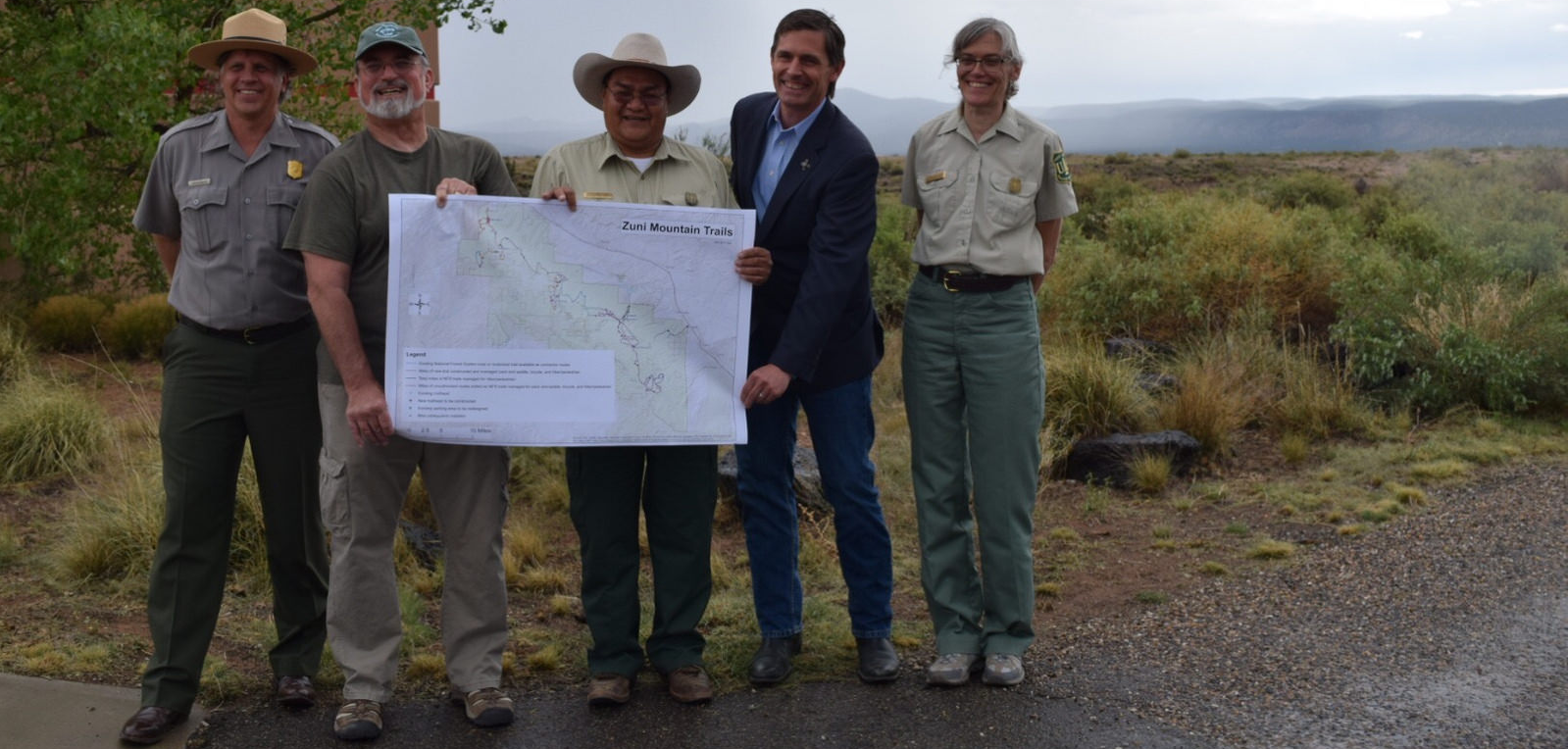 PHOTO: U.S. Senator Martin Heinrich joins Alvin Whitehair, District Ranger from the Mt. Taylor Ranger District of Cibola National Forest and National Grasslands, and community leaders from Cibola and McKinley Counties to announce the completion of the planning process for the Zuni Mountain Trails Project, May 31, 2017.
Dear Friend,
Last month, I attended a signing ceremony in Grants to mark the completion of the planning process for the Zuni Mountain Trails Project. In total, the Zuni Trails Project will add approximately 186 miles of new trails, five new trailheads, parking lots, and restrooms to the existing system. This new trail system will put western New Mexico on the map as a premier destination for mountain biking, hiking, horseback riding, and other outdoor recreation.
I hope you can take a moment to read the story below from the Albuquerque Journal about what these new trails will mean for the region.
These miles of new single track represent a major economic development opportunity for McKinley and Cibola Counties. According to a report released earlier this year, the outdoor recreation economy creates $887 billion in annual consumer spending and directly supports 7.6 million jobs throughout the United States.
I was proud to support the local community leaders who have worked for years to make this project a reality. Thanks to their collaborative effort, outdoor enthusiasts from near and far can experience all that this special area has to offer.
Sincerely,
MARTIN HEINRICH
United States Senator
Zuni Mountain network aims to become 'the ultimate'
By Tania Soussan / For the Journal
Published: Thursday, June 22nd, 2017 at 1:08pm
New Mexico mountain bikers take note: There's great riding on a growing network of trails in the Zuni Mountains near Gallup and Grants, and it's only getting better.
The U.S. Forest Service, working with local governments, area tribes and recreation groups, recently marked a milestone in a years-long-effort to improve recreation trails in the mountain chain for mountain bikers, hikers and horseback riders.
"We want to be the best competitor against Moab and Durango," said McKinley County Attorney Doug Decker.
The Cibola National Forest last month published a final decision in the Zuni Mountain Trails project, a $5 million effort to add about 186 miles of trails to the existing system. Some of the trails are user-defined trails that now will be officially designated and maintained. Others will be completely new.
Mini cattle guards that bikers can easily ride over and self-closing "cowboy gates" for equestrians will make it "the ultimate multi-use trail," said District Ranger Alvin Whitehair. The project also includes one hiking-only trail in the Bluewater area, the construction of five new trailheads with enough space to park horse trailers and the redesign of the existing Quartz Hill parking area.
This weekend, the trail system will be the site of the 24 Hours in the Enchanted Forest mountain bike race (nearly 500 riders) put on by Zia Rides. More information on their series of races across New Mexico is available at their website ziarides.com.
A scoping letter for the project cites "increasing public demand for a high-quality and challenging network of mountain bike and hiking trails in the Zuni Mountains" and says unmanaged mountain bike use has resulted in numerous unauthorized trails that are harming watershed resources and wildlife habitat.
Youth Conservation Corps crews are expected to do much of the work on the ground, and the goal is to have new trails ready for use by 2019, Whitehair said.
"Through this collaborative effort, we will ensure that outdoor enthusiasts from near and far can experience all that this special area has to offer," said U.S. Sen. Martin Heinrich, D-N.M., who joined the effort. "This new trail system will boost outdoor recreation and economic development in western New Mexico."
McKinley County already draws bicyclists from out of town and sees the economic development potential, said Decker, adding that a robust trail system also improves quality of life and community health.
The area hosts several endurance mountain bike events, including the 24 Hours in the Enchanted Forest relay and the Zuni Mountains 100.
Bill Siebersma, president of Gallup Trails and a board member for Adventure Gallup, said mountain bikers shouldn't expect the extreme terrain of Moab. Rather, they will enjoy pleasant, smooth-flowing trails that wind through ponderosa pine forest, aspens and meadows.
"Our trails are narrow, single-track, kind of what mountain bikers would call old-school trails," Siebersma said, adding that the region, with its good network of trails and water availability, also lends itself to bikepacking.
"There's a lot more mountain biking resources up there than most people imagine," he said, adding he recorded about 10,000 user days on the west Zuni Mountain designated trails last year.