Our Children Can't Wait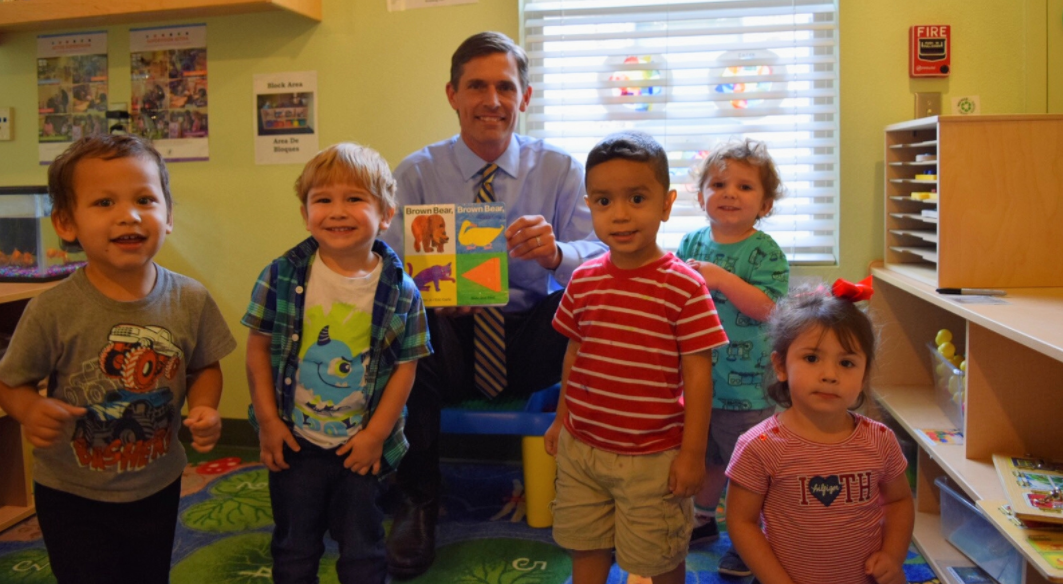 PHOTO: U.S. Senator Martin Heinrich reads with children at La Clinica de Familia's (LCDF) Early Head Start-Child Care Partnership Center in Las Cruces, which helps care for children while their parents work or further their education at New Mexico State University and Doña Ana Community College.
Dear Friend,
I will never stop believing in the boundless potential of the next generation of New Mexicans. But it is clear that to tap into that potential, bold action is needed to invest in early childhood education. It is long past time to put New Mexico's $17.5 billion Land Grant Permanent Fund to work for early childhood education and ensure children have the resources they need to succeed. This week, the New Mexico State House of Representatives passed a constitutional amendment to do just that. I am calling on the State Senate to follow their lead.
Inaction is moral failure for a state with the third largest permanent fund in the country and far too many children who show up to their first day of kindergarten without the skills they need to succeed. A failure to invest in early childhood education compounds the problem of poverty we all know must be addressed. This year's recently released KIDS COUNT Data Book report ranked our state 49th in the nation for overall child well-being for the fourth year in a row and ranked us dead last in education. It is unacceptable that almost a third of children in New Mexico live in poverty. And while we've made improvements in nearly every category, New Mexico's progress still lags behind the rest of the country in child poverty and education.
The KIDS COUNT report's biggest policy recommendations were to invest in early childhood education and implement two-generation strategies that meet the needs of both vulnerable children and their families together. Last year, I was proud to join Sen. Susan Collins (R-Maine) to introduce the bipartisan Two-Generation Economic Empowerment Act to dramatically improve our approach to ending the multigenerational cycle of poverty. Our legislation will give states, local governments, and tribes more flexibility to create partnerships that invest in proven strategies to help families succeed.
New Mexico has an opportunity to advance forward-looking policies designed to make substantial progress and improve our current trajectory. Providing a seamless pathway from early childhood through post-secondary education is the key to unlocking our economic potential in our state. Energy and resources should be directed towards programs that support career pathways and increased student-counseling services. We also need to protect the gains we've made in health care because of the Affordable Care Act and Medicaid expansion.
Our state faces unique challenges, but we all agree that in order to succeed we have to put our children first. Let's all keep working to build a brighter future for every single one of them.
Sincerely,
MARTIN HEINRICH
United States Senator