Recognize a Hero in your community
Dear Friend,
The coronavirus pandemic has brought upon some of the most challenging times many of us will ever face. But it has also shown us how dependent we are on one another for support. So many of you are showing up in moving ways to demonstrate our state's trademark creative tenacity and incredible ingenuity in the service of our fellow New Mexicans.
I am deeply grateful to all New Mexicans who are doing their part to stay home and maintain physical distance. It is going to make a real difference for our health care workers who are working day and night to save lives. I would like to take a moment to recognize the many New Mexicans who are showing what it means to support each other during this trying time.
That's why I am launching a "Hometown Heroes" Initiative to shine a spotlight on some of the true heroes who are stepping up to serve their fellow New Mexicans during the coronavirus pandemic. I'm asking for New Mexicans to nominate heroes in their communities.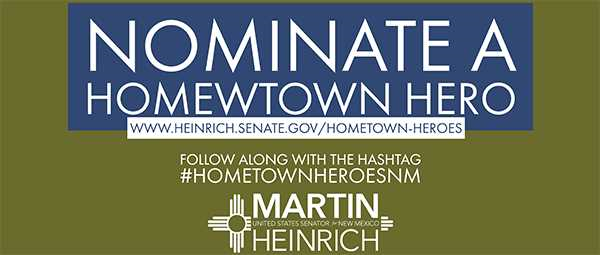 You can nominate a New Mexico Hometown Hero here. I also encourage you to post on social media about heroes in your community using the hashtag #HometownHeroesNM.
Let me tell you just a few examples of what I mean about New Mexicans going above and beyond all around our state. Daniel Lewis, a driver for the Newcomb Senior Center, is still making food deliveries to seniors living in remote chapters on the Navajo Nation. Eddie Padilla, a meat cutter at Kuane's Market in Santa Fe, is helping families eat in his day job and then delivering food and essentials to seniors after work hours. Chris Franzoy of Young Guns Farm in Hatch is donating free five-pound bags of pinto beans and green chile to families in southern New Mexico.
Our small business community is also finding creative ways to help out. When there were shortages in supplies, local brewers like Three Rivers in Farmington and distillers like Rolling Still in Taos turned their attention to making hand sanitizer. Kathy Lay, the Executive Director of Roswell MainStreet, created a virtual version of the monthly First Fridays event to urge people to buy online from local merchants or order take-out or delivery from local restaurants.
Even though the school year was ended to protect the health of our children and their families, New Mexico educators are still reaching out to students and parents. Andrea Tafoya, a first grade teacher at Louis E. Armijo Elementary School in Las Vegas, took the time to call every single one of her student's parents. She then drove to visit each student--from a safe distance away in her car--to tell them she was still their teacher and she will do everything she can to support them as they transition temporarily to learning from home.
Finally, it goes without saying how heroic our health care workers and first responders have been in confronting this crisis. They are putting themselves on the frontlines to protect all of us. I hope we can follow their example and continue to lean on each other and help our fellow New Mexicans. That's how we will get through this.
Be well and stay healthy.
Sincerely,
MARTIN HEINRICH
United States Senator