CLOVIS, N.M. – U.S. Senator Martin Heinrich (D-N.M.), a member of the Senate Energy and Natural Resources Committee and member of the Senate Appropriations Committee, and U.S. Senator Ben Ray Luján (D-N.M.) participated in a groundbreaking ceremony for the next portion of the Eastern N.M. Rural Water System.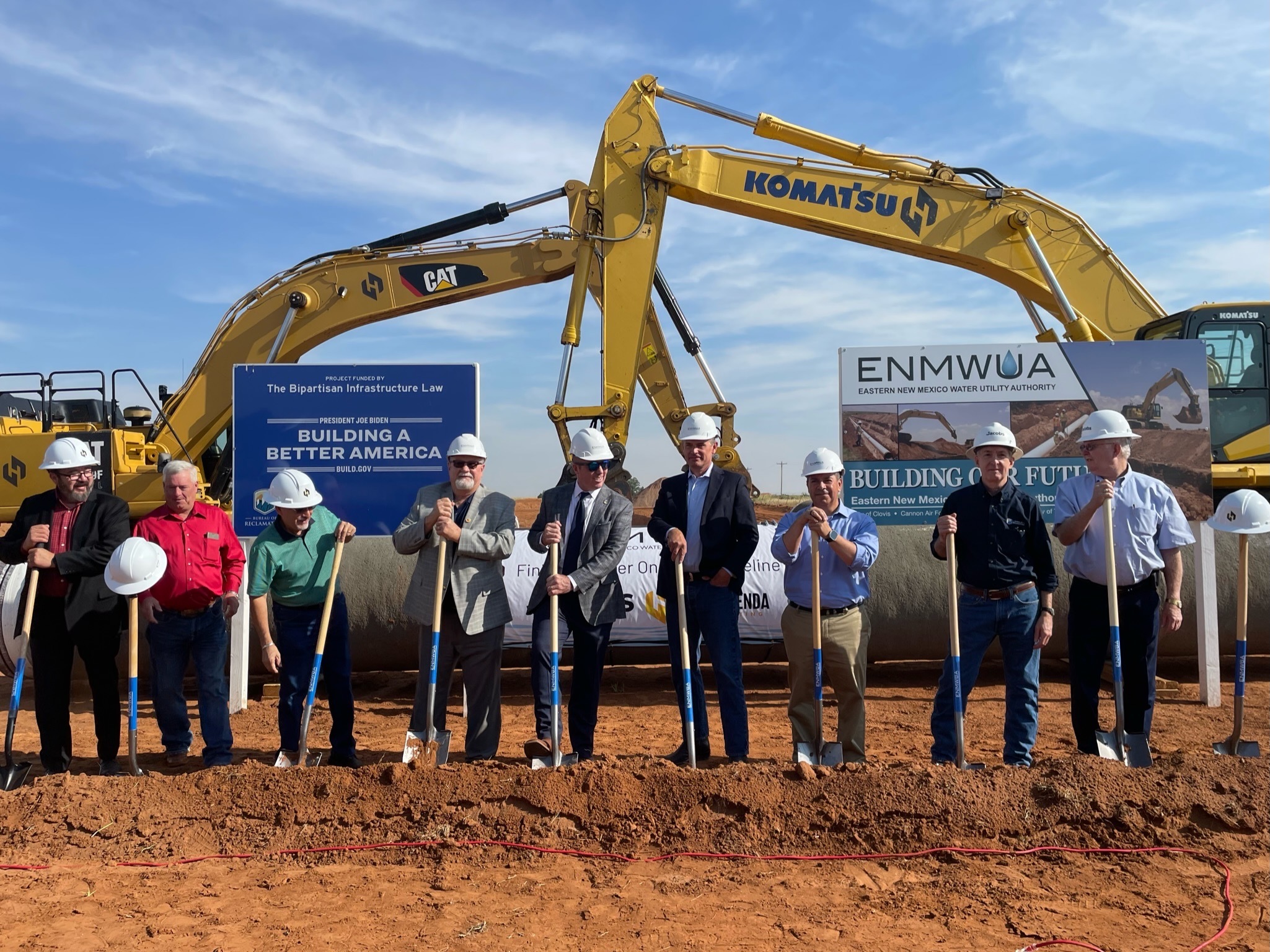 PHOTO: U.S. Senators Martin Heinrich and Ben Ray Luján attend groundbreaking for Eastern New Mexico Rural Water System, August 22, 2023.
VIDEO: U.S. Senators Martin Heinrich and Ben Ray Luján attend groundbreaking for Eastern New Mexico Rural Water System, August 22, 2023.
"As brand new freshmen members of Congress, we landed in Washington, D.C. in 2009. That's when Senator Luján and I voted to authorize this project then got to work as a team with all of you and our entire delegation year after year for this project," said Heinrich. "In Washington, we would have 'Infrastructure Week' every year, but we never really got serious about infrastructure or had the cohesive coalition to make a real investment the way that folks did when they created the Interstate Highway System or the New Deal. That changed with the Bipartisan Infrastructure Law. That was our moment to really invest in the things that will pay dividends for generations to come. Water and broadband, more than probably anything else, were the things that New Mexico needed to really create the foundation for communities like this to thrive."
Heinrich continued, "It was an honor for me to work with Senator Luján, Congresswoman Leger Fernández, and with all of you—mayors past and present, base commanders, all the board members of the Water Utility, John Ryan, and former Mayor Brumfield. You have been at this for years. So when the moment came for that Bipartisan Infrastructure Law, we were ready to push this project forward. Thank you for that partnership because there is literally nothing more important we can do for the 70,000 residents of this part of the state than to create that certainty and a secure water supply."
"Since serving as a member of the U.S. House, I have worked with local, state, and federal leaders to deliver investments to the Eastern New Mexico Rural Water System – an important lifeline for communities like Clovis, Portales, Texico, and Elida. This project, which will strengthen the water supply, was years in the making to address the groundwater shortage in the region," said Luján. "I was proud to join Senator Heinrich and local leaders to break ground on the next portion of this project, and I will continue working to address the water crisis that rural New Mexicans face." 
Today's groundbreaking ceremony represents the next phase of the project, which will connect to a new Waste Water Treatment Plant that will be built soon. This facility will be key to treating and delivering potable and clean drinking water to all of the member communities and Cannon Air Force Base. In the coming years, the project will reach all four member communities—Clovis, Portales, Elida, and Texico.
As newly elected members of the House of Representatives, Heinrich and Luján first voted to authorize federal funding for the project in 2009. Since then, they have worked to deliver $322 million in federal resources to support the project's completion, including through their work negotiating the Bipartisan Infrastructure Law and through additional funding Heinrich secured through the Appropriations process. 
In 2021, Heinrich announced the authorization of $5 billion for Fiscal Years 2022-2026 for Western water programs through a provision that he secured in the Infrastructure Law. The Infrastructure Law has invested $250 million dollars in the Eastern New Mexico Rural Water System in the last two years alone. Heinrich also secured an additional $22 million dollars in Congressionally Directed Spending and Appropriations for this project in the last two federal funding laws.
###