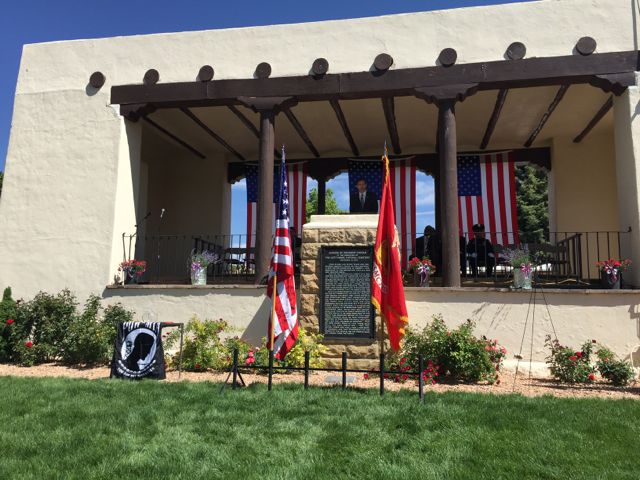 (PHOTO: U.S. Senator Martin Heinrich delivers remarks at Santa Fe National Cemetery, May 30, 2016)
SANTA FE, N.M. - Today, U.S. Senator Martin Heinrich (D-N.M.) delivered a speech at the Memorial Day ceremony at Santa Fe National Cemetery. 
In his remarks, Senator Heinrich honored our nation's fallen heroes, veterans, and military families, and underscored New Mexico's proud tradition of answering the call of duty.
Below are Senator Heinrich's remarks as prepared for delivery:
Good morning, everyone, and thank you for inviting me to share a few words with you.
I want to thank Cemetery Director James Sanders, my colleague and friend Senator Tom Udall, and New Mexico Veterans' Business Outreach Director, and Retired Marine Colonel, Joe Long, who will also be speaking today.
I would like to start by taking a moment to thank those of you here today who have served our nation in the armed forces.
The tradition of men and women answering the call of duty runs deep in New Mexico's history. And this cemetery reflects that rich and storied history.
Almost as soon as our state became an American territory, New Mexicans began to play an integral role in defending the United States.
In 1862, Volunteers from Colorado, California, and New Mexico met Confederate soldiers from Texas at Glorieta Pass, where the Santa Fe Trail crossed the Sangre de Cristos.
The leader of the New Mexico Volunteers, Lt. Colonel Manuel Chaves, from Atrisco, led the battle's decisive attack, destroying the Confederates supply train and forcing their eventual retreat out of New Mexico and the Southwest for the remainder of the war.

Those may have been the first American military heroes from New Mexico. But they were far from the last. New Mexico's spirit of service and sacrifice has continued to this day.
 
From the Navajo Code Talkers and Bataan Death Marchers, to women who served in the Navy and as supply pilots in World War II, to Korean and Vietnam War GI's, to men and women serving in Iraq and Afghanistan.
In January, we lost Sgt. 1st Class Matthew McClintock, from Albuquerque, a Special Forces "Green Beret" soldier killed in the line of duty in Afghanistan.
 
Today, we gather to remember and honor all those who sacrificed their lives so that we can enjoy the American freedoms we all cherish.
And we also take time to recognize and reflect on the ongoing service of the men and women at our state's military bases and our armed forces deployed across the world.
In addition, we honor the strength and resilience of our military families. Especially those who have lost a loved one, and those who are continuing to care for a veteran.
We owe our military families and our nation's veterans more than a debt of gratitude-we owe them action in both our words and deeds.
That is what drives my work to increase timely access to health care services for our veterans and to expand New Mexico's community-based outpatient clinics.
About a year and a half ago, I helped open one of those new clinics on Beckner Road here in Santa Fe. The clinic allows veterans in the region to access primary and mental health care closer to home, without having to travel all the way down to the Albuquerque VA Hospital.
That's also the reason why I have supported legislation to reform the VA, bring accountability and reduced wait times, reduce the disability backlog, and ensure our rural veterans have a real choice in accessing the health care they need.
And being here, you can understand why I worked with Senator Udall last year to secure 5.7 million dollars in federal funding to construct a new veteran's cemetery in Fort Stanton in Lincoln County.
This new cemetery will serve more than 7,500 veterans and their families in southeastern New Mexico.
And I support other cemeteries currently in planning stages in other parts of our state.
This cemetery--like other veterans cemeteries across our state and nation--give us a place to remember our family members, our friends, our neighbors, and those who came before us, who served and sacrificed their lives.
When I'm here, I am always struck by how many ordinary New Mexicans have made extraordinary contributions to our nation.
I'd like to close by speaking about just a few of those New Mexicans by reading from a 1943 newspaper column written by World War II correspondent Ernie Pyle.
Ernie Pyle was one of the nation's most famous reporter during the war. Pyle's newspaper columns ran in nearly every U.S. paper and served as daily dispatches from the fronts in Europe and the Pacific.
Although he spent much of his time as a reporter on the road, Pyle had adopted New Mexico as his home state. His house in Albuquerque is now the local public library in my neighborhood.
Sadly, before he could make it back home to settle down in New Mexico, Pyle was killed by a Japanese sniper while covering the Battle of Okinawa, just months before the war's end.
But--before that--in 1943, while covering the Sicilian front in southern Italy, Pyle reported on the 120th Army Engineers Battalion, which was composed mostly of soldiers from New Mexico.
Pyle said, after meeting the battalion: "It was good to speak of places like Las Cruces, Socorro, and Santa Rosa...to find somebody who lived within sight of my own picket fence on the mesa."
Pyle met a former Aggie football coach and athletic director, a former machinist at the Santa Fe Railyards in Barelas, and a soldier from Las Vegas who was carrying a quart of chicos from home that he was saving to make posole for Christmas dinner.
In fact, Pyle found out: "Their folks occasionally sent [the unit] cans of chili and peppers, and then they had a minor feast."
The commander, Lt. Colonel Lewis Frantz, who was also from Las Vegas, said the unit had sustained heavy losses.
He told Pyle that almost half their work clearing the way for the infantry was done under shellfire. And at one time, they were eight and a half miles ahead of the infantry.
One of the soldiers, Captain Waldo Lowe of Las Cruces told Pyle that while the unit was still in training, he had been given the chance to go home on furlough, but he didn't want to go until he had seen action overseas.
But, Pyle wrote: "After he had leaped the overseas hurdle and felt qualified to go home, he couldn't get there."
Today, and every day, we should remember our men and women in uniform who never got there--who never made it back home.
On this Memorial Day, I join all New Mexicans, and all Americans, in honoring our fallen heroes and keeping those serving today at home and abroad in our thoughts and prayers.