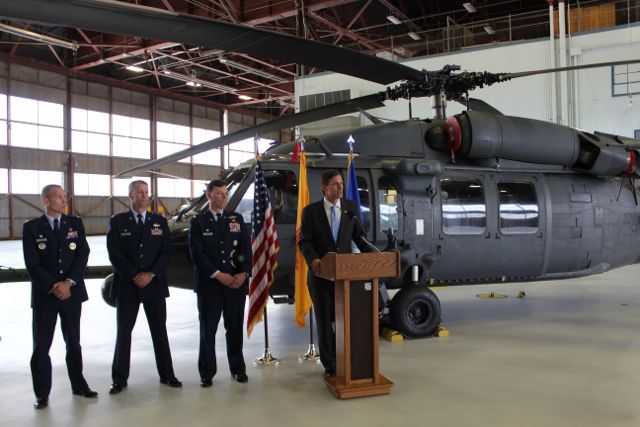 (PHOTO:  U.S. Senator Martin Heinrich with (left to right) Col. Tony Haught, Vice Commander of the 377th Air Base Wing; Col. Rob Reyner, Commander of the 150th Special Operations Wing - N.M. Air National Guard; and Col. Dagvin Anderson, Commander of the 58th Special Operations Wing announcing a new Combat Rescue Helicopter fleet at Kirtland Air Force Base, May 31, 2016)
ALBUQUERQUE, N.M. - U.S. Senator Martin Heinrich (D-N.M.), a member of the Senate Armed Services Committee, announced today that Kirtland Air Force Base (KAFB) will receive a new combat search and rescue helicopter fleet to replace current aging aircraft. In his announcement at the base, Senator Heinrich underscored that KAFB will be the first Air Force installation in the country to receive the new Combat Rescue Helicopters (CRH). According to the fielding plan, KAFB will receive a total of 14 Combat Rescue Helicopters between fiscal year 2020 and 2028.  Senator Heinrich fought against a proposal to terminate the helicopter replacement program in 2014 and has advocated on the Senate Armed Services Committee to replace the existing fleet.
The new fleet will ultimately replace KAFB's aging HH-60's that were built in the 1980's. The 58th Special Operations Wing at KAFB is the premier training site for Air Force special operations and combat search and rescue aircrews, currently operating 14 HH-60's and employing more than 2,570 airmen, civilians, and contractors. 

"Today's announcement is another example of why New Mexico is, and will continue to be, a leader in national security for years to come. The new helicopters will allow Kirtland Air Force Base to continue serving as our nation's foremost training location for combat search and rescue operations, and will ensure the future viability of the base," said Sen. Heinrich. "This rescue mission is about saving lives. I am proud of what New Mexico's Special Operations Forces have been able to accomplish, and I will continue fighting to provide them with the aircraft and the technology they need to execute their mission."
The Air Force had considered terminating the helicopter replacement program due to sequestration.  As a member of the Senate Armed Services Committee, Senator Heinrich emphasized the aging nature of the helicopter fleet and the need to replace the HH-60 with new aircraft capable of personnel recovery from hostile territory. He secured $7.3 million in the fiscal year 2017 National Defense Authorization Act (NDAA) for the KAFB Combat Rescue Helicopter Simulator for training. The NDAA legislation passed out of the Senate Armed Services Committee and is now under full Senate consideration.  Senator Heinrich was also among a small group of senators in February 2014 who sent a letter to the Secretary of Defense strongly opposing the program's termination and urging the Pentagon to fund the CRH program.
The Air Force's combat rescue helicopters provide critical lifesaving support for U.S. and coalition forces.  Since September 11, 2001, the Air Force search and rescue forces have saved over 5,000 U.S., allied, and host nation lives in the U.S. Central Command (CENTCOM) theater, assisted another more than 7,000 people in CENTCOM to get life-saving care, and saved over 3,300 American lives during rescue operations in the United States.