Heinrich Presents Recovered Vietnam Service Medals To State Representative Alcon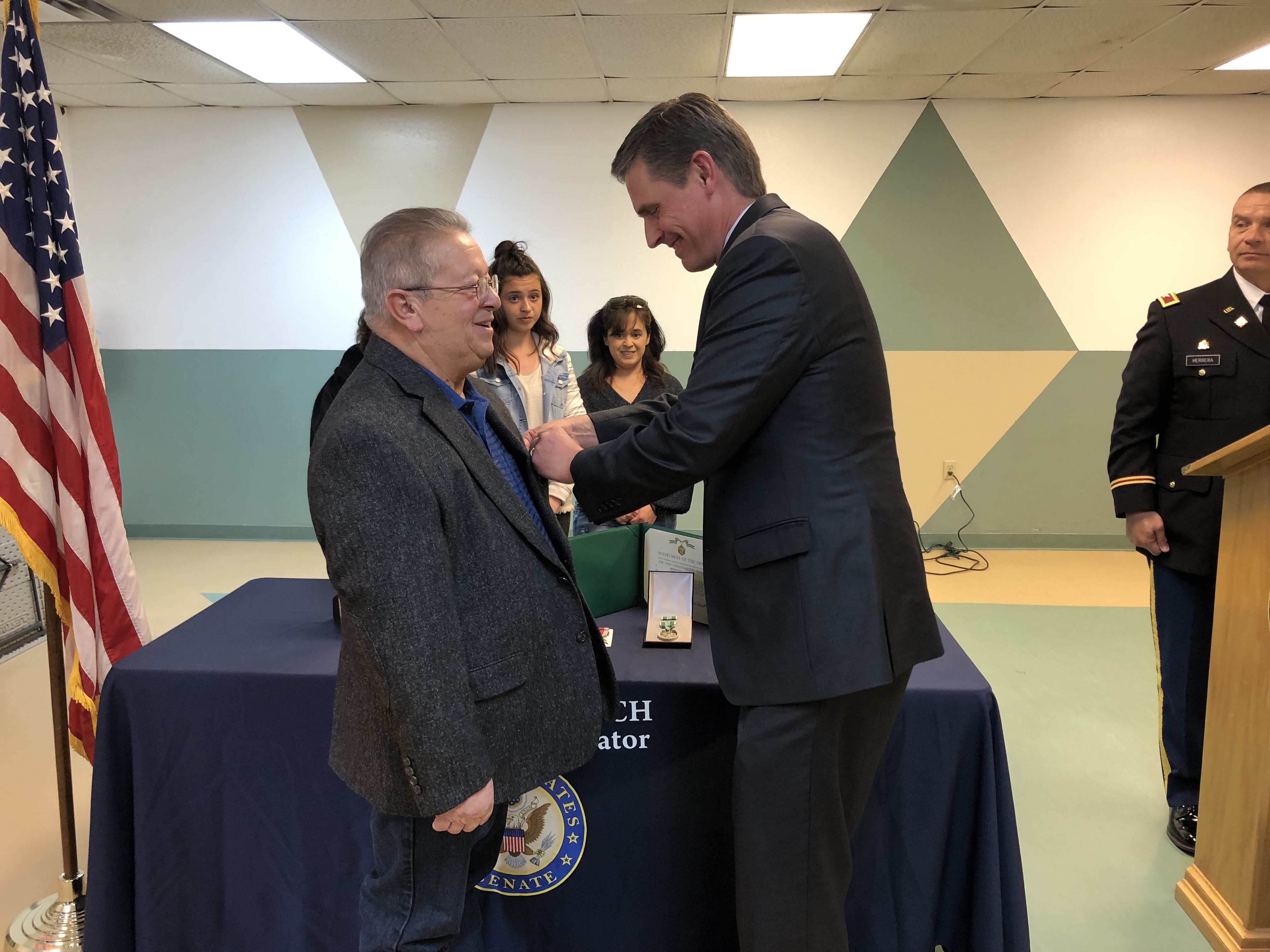 (U.S. Senator Martin Heinrich (D-N.M.) presents service medals to Vietnam veteran and New Mexico State Representative Eliseo Lee Alcon of Milan, March 21, 2019.)
FARMINGTON, N.M. (March 21, 2019) –Today, U.S. Senator Martin Heinrich (D-N.M.) presented service medals to Vietnam veteran and New Mexico State Representative Eliseo Lee Alcon of Milan.
"It is my honor to recognize a great New Mexican for his military and public service," said Heinrich. "Representative Alcon spent over a year on the battlefield working to save the lives of his fellow soldiers. However, like so many of his fellow Vietnam veterans, recognition for his service and sacrifice is long overdue. These medals are nearly 50 years past due and I am honored to present them to him on behalf of a grateful nation."
"I'm excited to finally receive these medals and grateful to Senator Heinrich and his office for helping to retrieve them," said Rep. Alcon. "It really shows his commitment to our veterans and the value he holds for those who have served our country."
Representative Alcon was drafted in 1969 and served as a combat medic in Vietnam. He spent over a year on the battlefield working to save the lives of his fellow soldiers. After he returned to the United States after his deployment, Alcon never received the medals he had earned.
In the years since his military service, Representative Alcon entered into a distinguished public service career, serving as both a municipal and magistrate judge in Milan. He has served his constituents from House District 6—which includes portions of Cibola and McKinley Counties—in the New Mexico House of Representatives since 2008.
Last March, Representative Alcon reached out to Senator Heinrich's office for assistance in obtaining his service medals. Heinrich worked with the Army to get the medals authorized and released. Heinrich presented him with a Bronze Star Medal at today's ceremony. He also received his Army Commendation, Good Conduct, Vietnam Service Medal with three Bronze Stars, Expert Badge with Auto Rifle. In addition, Rep. Alcon earned the Republic of Vietnam Gallantry Cross Unit Citation, a medal historically awarded by the Republic of South Vietnam.
Heinrich's office has helped hundreds of veterans across New Mexico. New Mexico veterans and their families having trouble filing a claim, receiving benefits, accessing health benefits or military records, replacing medals, or other veterans issues are encouraged to contact his office by calling (505) 346-6601 or visiting the Veterans Resources Center on his website.