Heinrich, U.S. Fish And Wildlife Service Announce $1 Mil Annually For Valle de Oro National Wildlife Refuge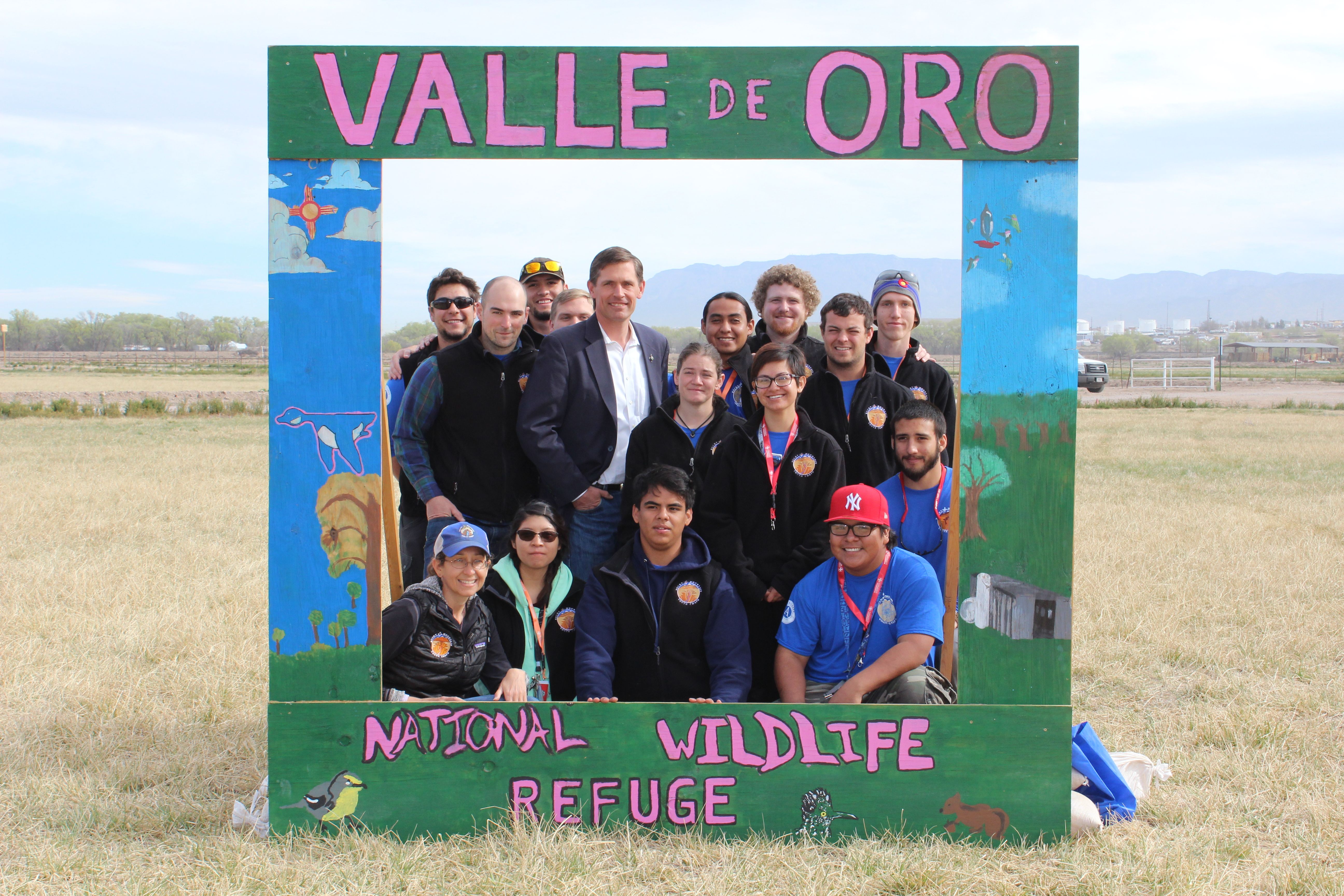 (PHOTO: U.S. Senator Martin Heinrich with members of the Rocky Mountain Youth Corps at the Valle de Oro National Wildlife Refuge, March 22, 2016.)
ALBUQUERQUE, N.M. - Today, U.S. Senator Martin Heinrich (D-N.M.), a member of the Senate Committee on Energy and Natural Resources, and U.S. Fish and Wildlife Service Director Dan Ashe announced that the Valle de Oro National Wildlife Refuge will receive $1 million in additional annual funding to engage urban communities and youth in conservation and outdoor recreation. The Refuge, located in Albuquerque's South Valley, is only five miles from downtown and has been working extensively with partners and community members to create a shared vision for opportunities to connect the Refuge with families and youth through conservation, culture, and community.
"There is so much opportunity at Valle de Oro to help New Mexico kids discover the incredible natural heritage of our state right in their backyard, while supporting vital river and habitat conservation," said Sen. Heinrich. "I am proud to stand with the community in Albuquerque's South Valley and secure resources to turn this 570-acre oasis into a place filled with educational and recreational opportunities."

"Valle de Oro National Wildlife Refuge has the potential to become an essential ecological, educational, and recreational resource for families and kids in the Albuquerque area and across the region. Our goal is to accelerate this process by giving the refuge's outstanding staff additional resources to build and strengthen relationships with community partners and residents," said Fish and Wildlife Service Director Dan Ashe. "Funding will be used to expand opportunities for families and kids to connect with nature, creating memories for a lifetime and fostering an appreciation for the importance of this unique landscape to both people and wildlife."
"Valle de Oro Refuge is bringing a sense of pride into our neighborhood. We have a great community here that has sometimes been overlooked because of all the industry surrounding us," said Sara Carrillo, Principal at Mountain View Elementary School in Albuquerque's South Valley. "We have very few opportunities for safe play and exploration outside. Mountain View used to be a farming community, and Valle de Oro is helping us get reconnected with the land and our heritage. It is giving our families a safe place to connect with nature, spend time together, be healthy, and reconnect with our history."
The Valle de Oro National Wildlife Refuge was established in 2012 and purchased with funds from Land and Water Conservation Fund (LWCF). The Refuge engages the local community through conservation, environmental education, special events, environmental justice, and partnerships to embrace the importance of this cultural and natural landscape to both people and wildlife.
Senator Heinrich has consistently fought to permanently authorize and fully fund the LWCF. Last year, Senator Heinrich worked to secure a three-year extension to authorize LWCF. The program has helped protect many of New Mexico's cherished landscapes and wildlife refuges, including the Valle de Oro Wildlife Refuge, Valles Caldera National Preserve, Petroglyph National Monument, Aztec Ruins National Monument, and Santa Fe National Forest.