PHOTO: Heinrich Meets With VA Secretary Nominee, Continues Fight To Improve Veteran Care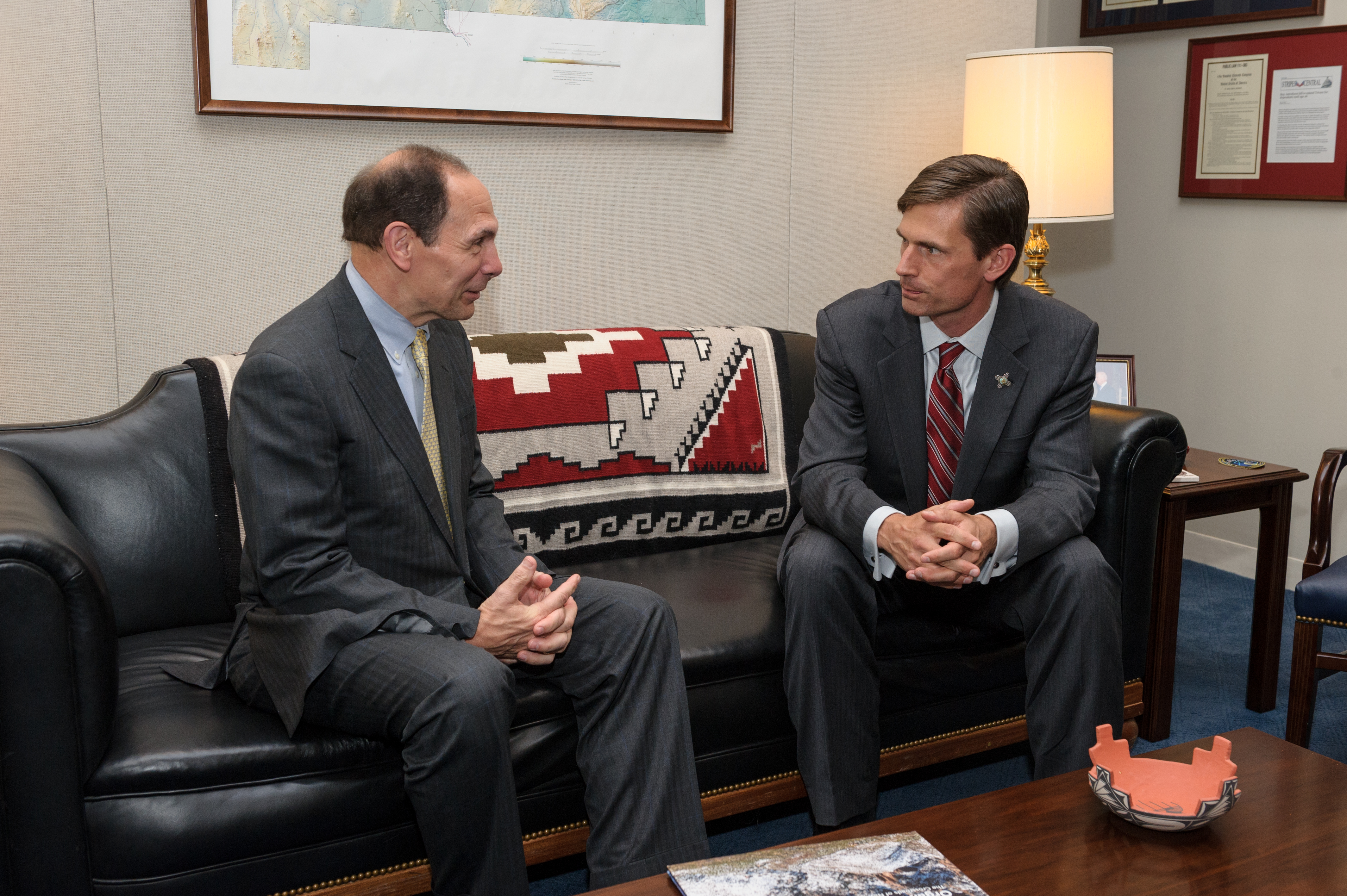 PHOTO: U.S. Senator Martin Heinrich discusses ways to improve care at the Albuquerque VA Medical Center with VA Secretary nominee Robert McDonald.
WASHINGTON, D.C. - U.S. Senator Martin Heinrich (D-N.M.) met with Veterans Administration (VA) Secretary Nominee Robert McDonald in his Washington D.C. office yesterday where they discussed ways to improve veteran care and address systemic problems at the VA.
"VA Secretary nominee Robert McDonald and I discussed the need to hire a qualified permanent director at the New Mexico VA Medical Center and the urgency of addressing the serious management issues that have plagued the VA nationwide," said Sen. Heinrich. "We also discussed the unique challenges veterans in a rural state like New Mexico face, such as the need for Community Based Outpatient Clinics to be accessible and provide top-notch health care. I am confident he is the right person to lead the VA after the recent revelations of systemic mismanagement. I am committed to fulfilling our promise to our veterans. If confirmed, I look forward to working with Mr. McDonald to ensure our veterans have the best care our country has to offer."
McDonald recently retired after 33 years as Chairman, President, and Chief Executive Officer of Proctor & Gamble (P&G). A graduate of West Point, McDonald served as a U.S. Army Captain in the 82nd Airborne Division, and received the Meritorious Service Medal from the U.S. Naval Academy.
Senator Heinrich is a lead proponent in the effort to improve quality of care and reduce the disability claims backlog for veterans. Last week, he sent a letter with U.S. Senator Tom Udall to Acting VA Secretary Sloan Gibson urging the VA to quickly hire a qualified permanent director at the New Mexico VA Medical Center in Albuquerque so they can immediately begin the work to regain the trust of veterans and address serious problems with scheduling, emergency response, rural veteran care, and other challenges.
Senator Heinrich cosponsored the Restoring Veterans' Access to Care through Choice Accountability, and Transparency Act. The bipartisan bill would give the VA authority to remove senior executives based on poor job performance while maintaining due process for those employees, and shorten wait times by enabling veterans to seek care at community health centers, military hospitals, or private doctors. The proposal also authorizes emergency funding to hire new doctors, nurses, and other providers to address system-wide emergency health provider shortages. In June, the bill passed the Senate by a vote of 93-3 and is now in the House-Senate conference committee to be reconciled with the House companion bill, H.R. 3220.
In March, Senator Heinrich introduced the 21st Century Veterans Benefits Reform Act, a comprehensive bill designed to reduce the backlog of veterans' disability claims.