PHOTO: Udall, Heinrich Host Energy Secretary at WIPP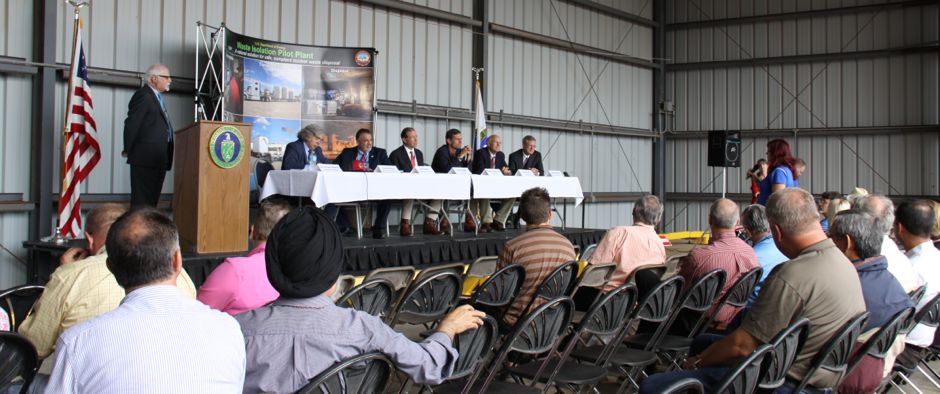 CARLSBAD, N.M. - Today, U.S. Senators Tom Udall and Martin Heinrich joined U.S. Department of Energy Secretary Ernest Moniz at the Waste Isolation Pilot Plant for an "all hands" employee meeting and surface tour of the site. Moniz and the senators also attended a townhall with Carlsbad residents on Monday evening.
WIPP operations have been halted since the radiation release at WIPP earlier this year. Following the release, Udall, Heinrich and Congressman Steve Pearce invited Moniz to visit WIPP to see the facility up close and talk directly with employees and community members. The cause of the release is still being investigated, and the lawmakers are working to ensure funding is available for recovery.
Throughout the visit, the lawmakers underscored the importance of getting WIPP reopened safely, and they highlighted how important WIPP is to the community and to national defense.
"It is critical for Secretary Moniz to see WIPP and visit with community members and especially employees, and I want to thank him for being the first energy secretary in 15 years to visit WIPP," Udall said. "Today, we got a good briefing and an overview of the recovery operations at WIPP. I especially appreciated the opportunity to talk to WIPP workers, and I want to thank them and the community for their patience. Safety is of the utmost importance, and I was very pleased to host Secretary Moniz and hear that he shares our commitment to a safe reopening of WIPP. As a member of the Appropriations Committee, I will keep fighting to ensure funding for recovery and reopening stay on track."
"I thank Secretary Ernest Moniz coming to WIPP and seeing first-hand how the recovery effort is moving along," Heinrich said. "I am also grateful to the workers and the Carlsbad community for their patience and resilience during this recovery process. What happened here in February was unacceptable and should never happen again. As our nation's only deep geological repository for transuranic waste, we expect WIPP to operate with the highest level of safety and the highest level of transparency. Collaboration between the Department of Energy, WIPP, and the community will continue to be important. I'll keep working to ensure these lines of communication remain open and that key maintenance and management programs are in place to reinstate a culture in which safety is the top priority."