Ute Park Fire
PHOTO: Andrew Weldin, owner of Cimarron Inn & RV Park which helped stage evacuees from the Ute Park Fire, and U.S. Senator Martin Heinrich show their support for firefighters, June 4, 2018.
Dear Friend,
I've been closely following the Ute Park Fire in northeastern New Mexico since it started last week. The fire has burned more than 35,000 acres of state and private lands in Colfax County, threatening hundreds of homes, buildings on the Philmont Boy Scout Ranch, infrastructure, watersheds, businesses, critical habitat areas, cultural resources, and the State Forestry District Office. For the most up to date information on the fire including evacuation information, and other fires around the state, please visit NMFireInfo.com.
Earlier this week, I was in Colfax County meeting with first responders and New Mexicans returning home after being evacuated. I received an update from community leaders and firefighters and surveyed the fire damage before participating in a community meeting in Angel Fire. I was also in Eagle Nest where I addressed the men and women fighting the fire and thanked them for their incredible service. I'm proud that New Mexicans are lending a helping hand by donating supplies and supporting our firefighters. The local economy and jobs in this area of our state are driven by outdoor recreation and Philmont, which have been hit hard by the fire. I am committed to the long-term effort that will be required in the months and years ahead to help the community come together and rebuild.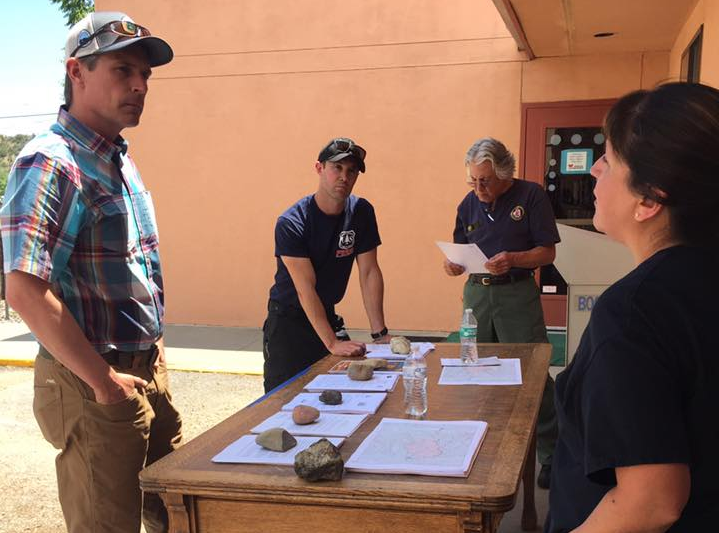 PHOTO: U.S. Senator Martin Heinrich receives an update from community leaders and firefighters before surveying fire damage, June 4, 2018.
I'm doing everything I can to make sure that New Mexico has the resources needed to fight this fire and decrease our risk of catastrophic wildfires in the future. Last week, I helped secure critical federal funding to fight the Ute Park Fire through the Federal Emergency Management Agency's (FEMA) Fire Management Assistance Grant Program. I'm grateful FEMA recognized the urgency of this situation and prioritized these badly-needed resources.
Earlier this year, I helped pass a long overdue wildfire funding fix to allow our federal agencies to draw from disaster and emergency funds during unusually large fire seasons rather than borrow money from their forest restoration programs that help us get out ahead of what causes large blazes. We will no longer have to choose between fighting fires and preventing them--we can and must do both.
PHOTO: In Eagle Nest, U.S. Senator Martin Heinrich thanks firefighters working on the front lines of the Ute Park Fire in Colfax County, June 5, 2018
We all know the weight of loss destructive wildfires can carry in New Mexico. After a particularly dry winter, we must all do our part to protecting the places we love from catastrophic fires. I encourage you to visit the Wildfire Preparedness & Prevention Resource Center on my website for prevention tips, best practices to protect homes and businesses, and an interactive map of active wildfire information from around the state.
Please stay safe this summer and join me in doing your part to prevent disastrous wildfires.
Sincerely,
MARTIN HEINRICH
United States Senator