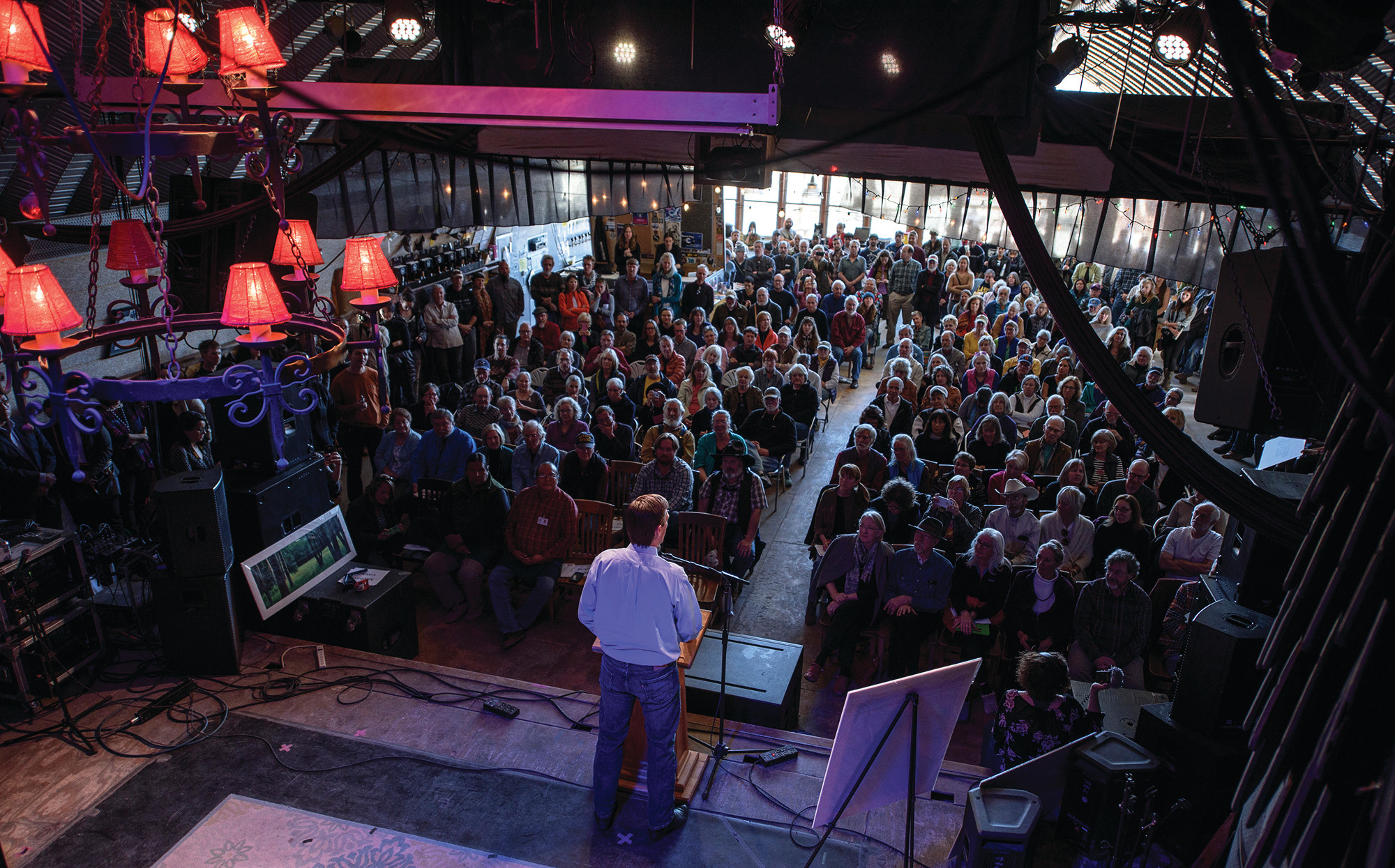 With the Taos Mesa Brewing Mothership packed as it was the morning of Feb. 21, you might think a big-name band was rolling through town. Instead, folks were gathered to hear U.S. Sen. Martin Heinrich, D-NM, speak about the importance of public lands and the fight to protect them.
Heinrich recounted his first backpacking trip with his wife and the first time his son caught a trout in a forest stream — both memories made in the public swaths of the mountains of New Mexico.
"What you have here doesn't exist in most places around the world," Heinrich said of Taos County, while urging locals to help keep "public lands in public hands."
Indeed, the public lands in Northern New Mexico range from a reserve owned by the state wildlife agency to alpine forests and lakes managed by the U.S. Forest Service and the piñón-juniper forests and river habitat overseen by the Bureau of Land Management. There is wilderness, a national monument, national forests and units of the National Park Service.
Yet the election of Donald Trump brought with it legislation at the state and national levels that seeks to upend the federal government's role in managing — and, in many cases, having ownership over — those various public lands.
"Public lands are the bedrock of our community and the cultures that bind us together," said Garrett VeneKlasen, executive director of the New Mexico Wildlife Federation.
"Never before have there been grater threats to our public lands," VeneKlasen said, citing moves to privatize or transfer federal lands and efforts to deregulate and neuter the authority of land management agencies.
National monuments like the Río Grande del Norte — which are created by the president and not an act of Congress, as a national park would be — have been under extra scrutiny from the Republican-controlled House of Representatives, Senate and White House.
"People woke up and realized they could do this. We're going to have to work really hard to protect it," Heinrich said.
Beyond the cultural importance of Taos' public lands, speakers also talked up the role they play in the local and statewide economy. Nick Streit, owner of Taos Fly Shop, said he paid out about $377,000 last year in wages from his small guiding business, while Heinrich said activity around public lands generates about $6 billion a year within New Mexico.
"Economically, we'd be crazy to get rid of public lands," said Neil King, mayor of Taos Ski Valley. The ski valley, which sits on land leased from the Carson National Forest, is one of the largest contributors to jobs and overall economic activity in the county.
Heinrich called the lands held in the public trust "the great equalizers."
In other corners of the country, getting into the wilderness and backcountry takes "a mighty thick checkbook," Heinrich said. But in Taos County, anyone can hop in their truck and drive a few miles down the road to get on a hiking trail, ski slope or two-track to go hunting.
"What you see, what you breathe, what you step on — that's all you have," said 2017 Taos Pueblo War Chief Curtis Sandoval.
Sandoval noted that the tribe has worked to protect the Taos landscape "from our side" at the same time local activists campaigned for more than two decades to help establish the monument and other protective designations.
"The Río Grande del Norte was one of the best deals ever made," Sandoval said.
The fight to protect public lands most obviously intersects with the fight for Native American sovereignty in the battle over the Bears Ears National Monument in Utah, Heinrich told The Taos News. Bears Ears was created in December 2016 as one of Barack Obama's last acts as president and was the culmination of a Native American-led campaign to protect that landscape.
The senator reiterated the need for the federal government to consult with tribes before making decisions that affect tribal communities. However, organizers of an anti-Dakota Access Pipeline march (set to take place in Washington, D.C., March 10) say that consolation is not enough and "consent" from tribes ought to be the standard in government-to-government talks.
Heinrich was also joined by Taos Mayor Dan Barrone, Red River Mayor Linda Calhoun, former mayor of Questa Ester Garcia, veteran Chuck Howe, Elana Lombard of Mudd N Flood, Dan Irion of Taos Mesa Brewing and a representative from the office of U.S. Sen. Tom Udall, D-NM.