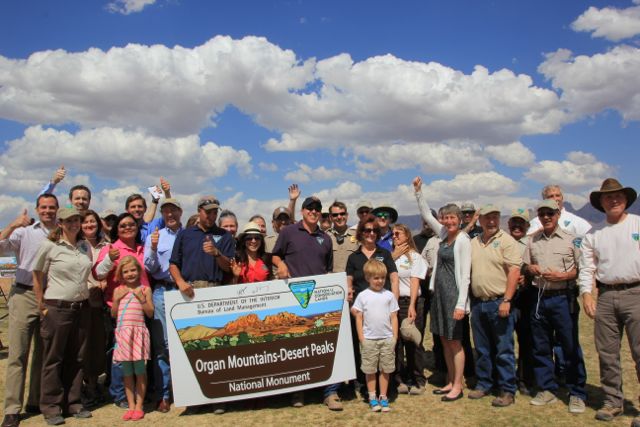 Today, U.S. Sens. Tom Udall and Martin Heinrich, Interior Secretary Sally Jewell and hundreds of Doña Ana County advocates gathered at Oñate High School to celebrate the proclamation designating the Organ Mountains-Desert Peaks National Monument. 
The Senators issued the following statements:
Udall: "This is a great day for New Mexico -- thanks to so many New Mexicans who spoke up and worked hard, we have a new national monument. It will put the unique and spectacular desert landscapes of Doña Ana County on recreation maps around the world, creating jobs and bringing in millions of dollars in revenue. I'm proud to join Senator Bingaman, Senator Heinrich, Secretary Jewell -- and especially the many people of Doña Ana County who love Las Cruces's beautiful backdrop and wanted it protected for generations to come. Today we celebrate them."
Heinrich: "This celebration and tremendous accomplishment would not be possible without the community's strong support. I give my heartfelt gratitude to the diverse coalitions and stakeholders from southern New Mexico who worked tirelessly to make today a reality, and I thank Senator Jeff Bingaman who helped push this effort many years ago. The Organ Mountains-Desert Peaks National Monument will help preserve our cultural identity, promote tourism in the region, boost the local economy, and foster recreational opportunities like hunting, hiking, and camping. I also thank President Obama and Secretary Jewell for recognizing how special this land is for all of us. I will continue to work to ensure we preserve New Mexico's treasured landscapes for future generations to enjoy."