PHOTO: Heinrich Receives Corps Network Champion Award, Honors Taos Youth Corps Volunteer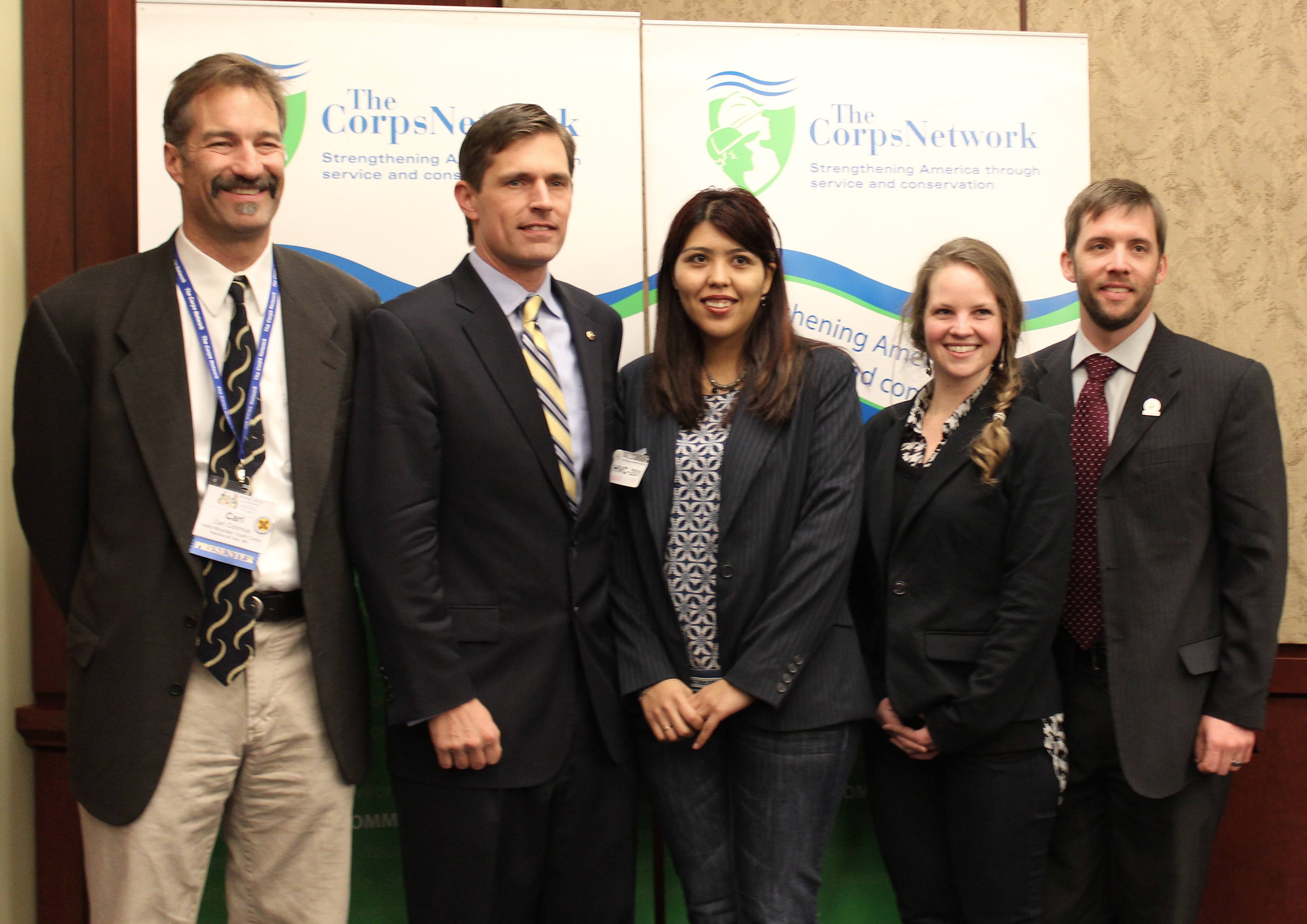 (From left: Carl Colonius, Executive Director, Rocky Mountain Youth Corps; Senator Martin Heinrich; Linda Santana, 2014 Corpsmember of the Year; Rosie Williams, Training Director, Rocky Mountain Youth Corps; and Ben Thomas, Field Program Director, Rocky Mountain Youth Corps)
WASHINGTON, D.C. - U.S. Senator Martin Heinrich (D-N.M.), a member of the National Service Congressional Caucus and the only sitting senator to have served in AmeriCorps, received The Corps Network's 2014 Congressional Champion Award for his leadership in expanding job training and educational opportunities for youth, while helping repair and restore the nation's public lands. Senator Heinrich, who serves on the Energy and Natural Resources Committee, is a cosponsor of the Public Lands Service Corps Act.
"As a proud AmeriCorps alum, I know first-hand that there is no limit to the lifelong benefits national service experiences can bring," said Sen. Heinrich. "The belief that service, sacrifice, and community-based solutions can help conquer some of our greatest challenges is what drove me to join AmeriCorps after college. I am honored to accept this award and look forward to the great work that lies ahead for The Corps Network."
Every year, The Corps Network presents the Congressional Champion Award to elected officials whose work promotes and encourages the growth and sustainability of America's youth service and conservation corps.

"Senator Heinrich truly embodies the Corps spirit of conservation and service through his love for the outdoors and work on conserving New Mexico's public lands and waters for public recreation and sportsmen," said Marry Ellen Ardouny, President and CEO of The Corps Network. "His efforts advancing the Public Lands Service Corps Act will help thousands more New Mexico youth and veterans appreciate and preserve the state's natural resources while also promoting pathways to fulfilling careers or further education, in addition to economic development for communities. We appreciate his leadership and know he is an asset for New Mexico and our nation which is why he is a 2014 Corps Network Congressional Champion."

At the awards ceremony, Senator Heinrich recognized and congratulated Rocky Mountain Youth Corps (RMYC) volunteer Linda Santana, one of this year's 2014 Corpsmembers of the Year. Linda was based in Taos, New Mexico and served as a Training Specialist. She also served two terms as a volunteer with the Montana Conservation Corps.

"Linda's commitment to service is a testament to young leaders who are playing an integral role in protecting and conserving our treasured public lands, water, and wildlife. Her example helps assure us that young people are working for the betterment of our community and our nation's outlook remains bright," said Sen. Heinrich.