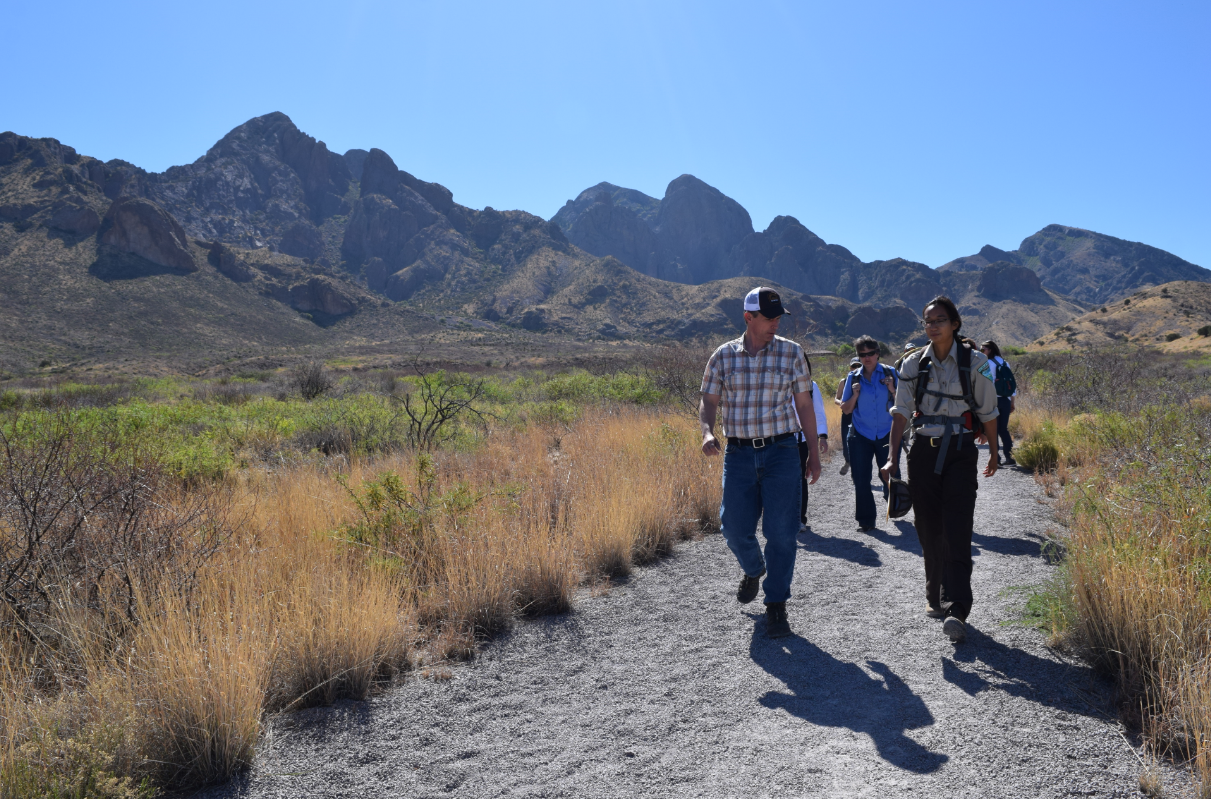 PHOTO: U.S. Senator Martin Heinrich hikes in the Dripping Springs Natural Area in Organ Mountains-Desert Peaks National Monument with attendees of the New Mexico Outdoor Economics Conference, May 4, 2018.
Dear Friend,
Southern New Mexico has become a national model for how much public lands and specially designated areas can boost local economies. For the last century, national treasures like the Gila Wilderness, Carlsbad Caverns, and White Sands have attracted visitors to the region. And over the last four years, our state's newest national monument, Organ Mountains-Desert Peaks, transformed iconic landscapes that locals had long recognized for their beauty and history into a beacon for outdoor enthusiasts around the world.
That's why I was so proud to join local leaders in Las Cruces earlier this month at the first ever New Mexico Outdoor Economics Conference. The conference offered the chance to think about good ideas and effective strategies that we are seeing across the West to promote tourism, economic development, and job opportunities offered by the outdoor recreation economy. It also gave us the chance to show off the rugged beauty of Organ Mountains-Desert Peaks to new out-of-state visitors.
Our public lands in the West are an essential part of who we are as Americans. They are the places where generations of families have hunted, hiked, and learned about our history. They're places all of us-visitors and locals alike-can access, regardless of the size of our wallets. And most importantly, our public lands are major drivers of our economy. Last year, the Outdoor Industry Association found that the outdoor recreation economy directly contributes $9.9 billion in annual consumer spending and employs 99,000 people in New Mexico.
We still have so much room to grow this industry all across New Mexico by learning from success stories in other Western communities and states. That's why I am calling on the next Governor of New Mexico to create an Office of Outdoor Recreation to focus on capitalizing on the opportunities our public lands offer us to grow our economy. It's also why I recently introduced legislation to designate White Sands National Monument as our state's second national park. This change would bring a major infusion of economic activity to the local economy in Alamogordo, Otero County, and all of southern New Mexico.
I deeply appreciate just how special and irreplaceable our public lands are to our way of life and our livelihoods in New Mexico. Let's all keep fighting to protect these landscapes that fuel our economy and make us proud to call New Mexico home.
Sincerely,
MARTIN HEINRICH
United States Senator