Heinrich Hosts Facebook Workshop For Small Businesses In Las Cruces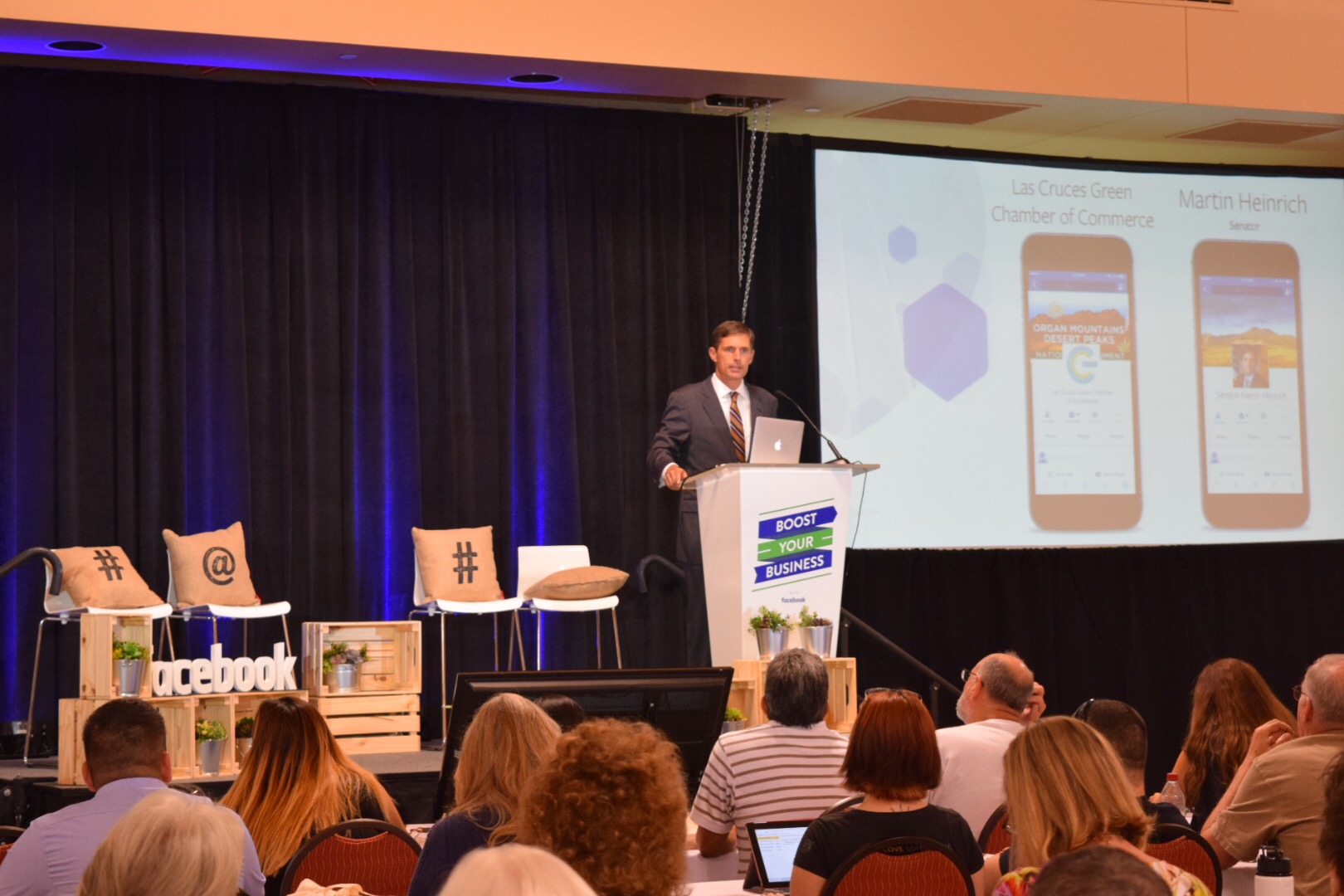 (PHOTO: U.S. Senator Martin Heinrich (D-N.M.) delivers remarks at Facebook's Boost Your Business seminar in Las Cruces. Aug. 25, 2016)
LAS CRUCES, N.M. - Today, U.S. Senator Martin Heinrich (D-N.M.) hosted a workshop for small businesses with Facebook in partnership with the Las Cruces Green Chamber of Commerce.
The Boost Your Business seminar aimed to help local small business owners from across southern New Mexico discover new tools and strategies to optimize their online presence and engage customers through the world's largest social media platform. Facebook representatives facilitated presentations by a panel of small businesses, and discussed effective promotion strategies, how to identify and engage with customers, and shared Facebook tips, tricks, and suggestions.
"Small Businesses are the engine of our state's economy and I'm committed to ensuring that they can grow and thrive," said Sen. Heinrich. "I enjoyed hosting this exciting event with Facebook in partnership with the Las Cruces Green Chamber of Commerce to provide small businesses with innovative tools to find new customers and deepen relationships with existing ones. We live in a global, high-tech economy where connecting with consumers online can be a key way to expand your business. And the growth and success of small businesses means the growth and success of southern New Mexico."
"New Mexico has long fostered an environment of innovation that has encouraged entrepreneurs to take risks and supported them with the resources they need to start businesses. Our goal with today's event is to teach Las Cruces small business owners how to maximize their presence on Facebook and Instagram, create engaging content, and find new customers with Facebook's powerful targeting and advertising tools," said Bess Yount, Head of Facebook's SMB Community Engagement team in North America. "Small businesses drive economic growth and new job creation. With over 60 million small businesses using Facebook to connect with customers in the U.S. alone, this workshop is part of our ongoing commitment to helping these businesses succeed and continue to grow."
"The number of business owners and nonprofit organizers at this event demonstrated how important it is for them to get the word out about what they do. Thanks to Senator Heinrich and the great people at Facebook, these folks now have vital information that will give them the advertising advantage," said Carrie Hamblen, CEO/President of the Las Cruces Green Chamber of Commerce.
There are more than 50 million businesses worldwide using Facebook to connect with customers, and approximately 8 in 10 Facebook users are connected to at least one small business in their network.